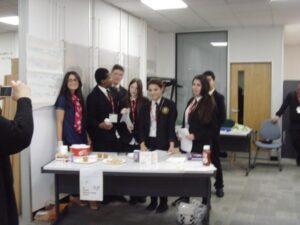 HM Revenue and Customs staff in Birmingham and Wolverhampton have recently taken part in the Engaging Our Schools project with George Dixon School and North East Wolverhampton Academy.
Their challenge was to help prepare students for life after school by helping them to develop their confidence and teaching them essential life skills with a view to improving their employability prospects and fostering a positive attitude towards the world of work and the benefits it brings.  Students listened to talks about the work of HM Revenue and Customs and learned about other departments in the civil service.  They took part in mock interviews and other practical activities and both  groups were given an apprentice style task of selling samosas and cakes to staff in the respective offices.  Students and staff alike enjoyed this thoroughly and raised money for charity at the same time.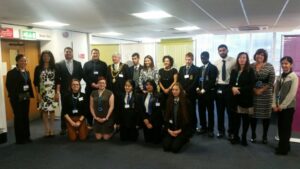 A celebration event took place in Birmingham on 11 December where the students celebrated their successes and were presented with certificates by the Lord Mayor of Birmingham.
In Wolverhampton a similar event is planned for 20 January where the guests of honour will be the Lord Mayor and Lady Mayoress.
It's a fantastic programme and a great way of reaching out to the communities we serve. - Arif Khan, City Centre House, Birmingham
If your office would like to get involved in this exciting project or you would like to find out more, please contact Janice Smith