When I first heard of Civil Service Local, it was 2013 and I was working for Veterans UK, a part of the Ministry of Defence. I was keen to progress in my career and I knew this meant I needed to improve my skills set and more importantly, my confidence in my own abilities. I started to look at the options available and one development opportunity I saw was a Civil Service Academy.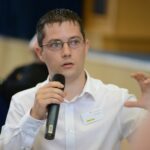 I asked around and managed to find a previous delegate working in the next office to me. I talked to them about what they got from their time with CS Local. They had nothing but good things to say but wouldn't tell me any more, insisting "you should go for it, but trust me, you wouldn't want me to spoil any of the experience!" Encouraged by this and the support of my manager, I applied for a place and was pleased to find out I'd been successful. So, off I went to Hutton Police training centre where I met the group of future leaders that would become my new family for the next four days. We didn't know it yet, but soon our "Chalk Family"  would become a great team who would bounce off each other through all the ups and downs of the event. We all learned new skills and left feeling very enthusiastic about the new project we would tackle over the next 12 months. That's as much as I can say as I wouldn't want "to spoil anyone else's experience"! Besides, it was only really the start of my personal development story.
I was interested in the other work done by CS Local so put myself forward as a volunteer. I was then asked to join the Discovery Sessions  delivery team and help host events across the north west for civil servants of all grades. We welcomed colleagues from a broad mix of departments based in big city sites as well as small local offices. Out of all my experiences, being on this team has taught me the most personally. I also believe it's what has improved my capability the most. I've continued to improve skills I already had as well as learning new ones along the way. It's made me more confident in my own abilities and has encouraged me to do things outside of my comfort zone. I've helped facilitate events, but I've also been involved in the planning and implementation of these sessions which brings with it the great responsibility of ensuring their ultimate success or failure!
I found that taking on extra challenges like this helped and enhanced my work back at the office. So, once our Academy team project was successfully delivered with my fellow "Chalkers", I started to look for another fresh development opportunity. This may have been a rather ambitious idea as fulfilling my Discovery Session role in addition to my day job was already plenty to be getting on with. However, one of the things the CS Local team has taught me is to keep pushing to improve, so halfway through 2015, I applied to be part of a talent programme which I saw advertised. I was successful in my application and, once again - just before Christmas - I met a new group of like-minded civil servants looking to progress. This had a very different structure. Our meetings were one day events held at different locations and we had the opportunity to ask our mentors what we wanted out of this opportunity. Areas we chose to focus on included delivering presentations, thinking on our feet and debating skills. Our meetings constantly evolved and once again placed each and every one of us well and truly out of our comfort zone!
I can honestly say that in the past 3 years I have changed in every aspect - as a person as well as professionally. I've become a more productive member of staff and I've become confident enough to get involved in internal projects at my workplace. This I owe to all the hard work (and sometimes a few tears) from the CS Local delivery team who do so much more than is seen on display at their events. The amount of planning that goes into taking an event from start to finish is mind-boggling. I can sincerely say that for the last 12 months, I am proud to have played a part in this wider team. As testament to all this hard work, I have recently been successful in applying for a promotion. This new chapter pushes me even further as I'll be moving from the Ministry of Defence and joining the Department for Work and Pensions. This is a new challenge I feel ready to meet thanks to my personal development over the last few years.
I've accomplished all this in addition to my own job, and when you put your mind to it, it's suprising what you can achieve in a short space of time. I'd like to end by saying a massive thank you to all involved in Civil Service Local because if it wasn't for their continued hard work, I would not have been able to achieve so much.