One of the main aims of the COG project (Citizen Outreach - Government) is to take government service to citizens at a time and place that's convenient for them.
My colleague Janet Ashworth and I began by visiting the Olive Branch open access centre and asking volunteers there about the type of support they wanted, and we spoke about what we could offer. One volunteer, called Richard, was particularly enthusiastic about enhancing his IT skills and was keen to work with us on an individual basis. We came away and drafted a package covering basic IT skills, and arranged to deliver three separate one-to-one sessions.
Working with him was very rewarding: initially, he didn't know how to access his email account or send an email. However, by the last session he was not just able to log-on and check his emails, but also to carry out job searches. As a direct result of learning these new skills, he found paid work for the first time in eight years. The food bank volunteers said how his confidence had grown since he had started working with us. One of the best moments was the first time he logged onto his email account and was able to see a photograph his sister had sent him of his two nieces, who he had never seen before. The photograph had been in his inbox for months but he hadn't known how to access it. It was a real feel-good moment.
I really enjoyed doing this and it has given me the confidence to go into a college and do a basic computer course. What help you have given me has been brilliant.  I'd now like to build on these skills and maybe take up a course around maths but maybe also some more basic computer skills. I am now working for a cleaning contractor at a supermarket. It wasn't just the skills you helped me with, but some real practical advice on how to approach things. This is the first time I've been in paid employment for several years and it's given me a real boost to my confidence and  I feel that being in employment, even though it's only a few hours a week at the moment, will help me to move forward.
Richard, volunteer.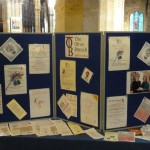 Another volunteer at the Olive Branch told us:
The work you have done with Richard is wonderful and we have all really seen a change in him as his confidence has grown. We have many people like this who use our services and who could benefit from this type of support.
Next, we visited a homeless hostel, a Job centre and a library to meet the workforce there. They were keen to work with us and to signpost their clients to us for support. A collection back at our office produced over 200 items of food and toiletries, which the volunteers at the food bank were grateful for. They said that although they appreciate all donations, they receive relatively few of the more expensive products – tinned pies, meat and toothpaste – so they were delighted that we went out specifically for those items. It reminded me how fortunate I am not having to worry about how I am going to feed my children on a daily basis.
By taking part in this initiative, I have learned how to work and interact with a variety of people from inside and outside my own department, and it has taught me that I need to keep driving things forward even when progress appears to be slow. I would certainly recommend getting involved in a Civil Service Local project. Especially so, if like me, you have worked in the same department for a long time. I've thoroughly enjoyed the experience and am glad we had the opportunity to make a real difference.