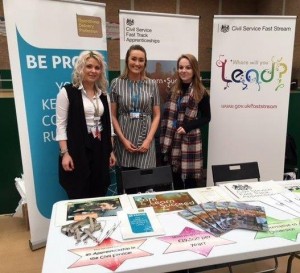 On 14 April a group of Civil Service representatives and Apprenticeship Ambassadors attended a Northumberland Careers Event at Blyth Sports Centre. The event was attended by over 300 young people aged 14 and over who were either school leavers or have already left school from across the county. Our aim was to raise awareness of the Civil Service and promote various apprenticeship schemes available.
On the day we generated interest from over 100 young people. We also established connections with local schools and a variety of youth groups such as The Prince's Trust, Silx (an award winning project providing young people aged 11-25 with recreational, educational projects, activities and positive interventions) and the National Citizen Service.
During the Careers Event we were able to identify the knowledge gaps surrounding the Civil Service and the Apprenticeship schemes; the biggest question of the day was - 'What is the Civil Service?' It became apparent that the younger school leavers especially had no idea what Civil Service does or what careers prospects it could offer.
It was our chance to promote how varied the Civil Service is and explain that all three of its apprenticeship schemes are incredible platforms to start a great career. Children, teens, young adults and even parents and teachers were blown away when we described some of the departments and areas that they could work in. Civil Service has jobs to suit so many passions. One of the most rewarding parts of the day was seeing how enthused children, parents, carers, and teachers were about the schemes.
One of our main objectives, and an objective of the Civil Service as a whole, is to encourage a diverse workforce. To break a stereotype that apprenticeships are only for young people, we target a wide age range of people. We also had the opportunity to talk to students with special needs or learning difficulties and their teachers, emphasising how important equality is. We informed individuals about the Guaranteed Interview Scheme, and stressed how constant and supporting the networks put in place are. We also had interest from students from a variety of ethnic and social groups, spreading the message that everyone is welcome!
Overall we had a great day, the event went extremely well and the feedback from the event organisers, parents and teachers who attended with their children was fantastic. We hope we encouraged a variety of people to consider a career within the civil service and become future leaders.
If you are interested in becoming involved in volunteering in schools, either to inspire young people to consider the civil service as a career, or just more generally help to raise aspirations please contact Anne Hunter to find out more.