A new discovery session to help civil servants find out about other government departments in their area has been held in Liverpool. The event, Discover Liverpool, was designed to make people consider job-swaps or secondments to other departments – or even permanent moves.
The event also celebrated the integral role of the Civil Service as a whole in Liverpool, with a host of departments - including HM Prison Service, HM Courts and Tribunal Service and the Land Registry - being represented.
Employees thinking about swapping skills or even switching careers were able to see what sort of opportunities existed beyond their own department. Teams from each department gave short presentations about their roles, then attendees moved onto the next team to find out about the work of another branch of government.
This format is basically professional speed-dating!
Janice Lea, Civil Service Local
To those outside the Civil Service looking in, the levels of energy, animation and friendliness might have come as a surprise. But in many ways this atmosphere reflected the evolution of the working ethos of the Civil Service. The image of a stuffy, distant bureaucracy is being replaced by one of a modern, creative organisation rooted in the communities it serves.
Angela McCarthy of the Department for Work and Pensions (DWP) said that people used to fear the tax collectors of HM Revenue and Customs (HMRC), but the image of the department has improved over time.
Change was something that cropped up in many of the discussions as the day progressed – not just in perceptions, but also in the pressures and demands on the service. Before the "speed-dating" started, Carl Boothroyd, a Casework Executive at the Land Registry, said: "Two things have affected every department in the Civil Service – the need to make things more efficient and a drive for digitalisation. We want to hear how other departments have experienced these changes. In terms of the digital side of things we have a lot to offer other branches - we're a data-focused service and had to up-skill in digital areas ahead of time."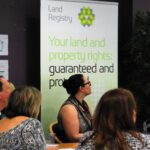 To illustrate the point, Carl pointed to a computerised image of a plot of land showing different stages of ownership. He explained that such plans used to be done by hand – with a paintbrush. But there were also shifts in perceptions between departments and what they could offer one another as the event went on. One of the key aims of Civil Service Local is to encourage the sharing of skills and widen employees' career horizons within and between departments. Jeni Conlin from HMRC felt she had learned from the experience. "There are a lot of people here who've worked in their departments for a long time. People sometimes get so used to their roles and don't realise they can move sideways. This was a reminder that your skills can be used across a whole range of departments."
Similar events will now be planned for other towns and cities in the north west - each with its own unique identity.
There was a real local flavour to the day. It was unmistakably a Liverpudlian affair, with positive leaders like Child Maintenance Group's Roy Gilfoyle bringing energy and humour to proceedings.
Tony Morris, HMRC