We recently welcomed Clare Moriarty, Permanent Secretary, DEFRA to Benton Park View in Newcastle.    Clare was the keynote speaker at a Senior Collective Leadership event and spoke about her own leadership experiences and how meaningful improvement often comes from difficulty.  Delegates from across departments  joined in a discussion about leadership in the civil service.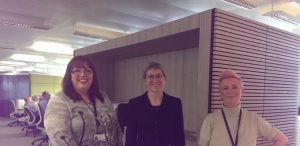 Clare was joined by Alison Hilton, Deputy Director and Senior Responsible Manager for the Benton Park View site and given a tour of a new cross government Business Events Centre by Lisa Curtis.  They also visited a model office testing new ways of working that allow more effective collaboration with customers and colleagues.  Clare tweeted,
A lot of thought and hard work has gone into this high quality space for business events.  The Model Office at Longbenton has workspaces to suit every activity - what a great environment to work in.

Alison, who is also Chair of the CS Local North East, Yorkshire and the Humber Steering Group chaired a meeting where participants in our Talent Management Programme and Civil Service Apprentices who have worked with us on schools outreach met Clare, in her role as our Permanent Secretary Champion.  They welcomed the opportunity to tell Clare about their experiences and the positive impact this has had on them.  After the meeting Alison told the group,
You were all so enthusiastic and constructive about your experience, I felt very proud of you.  Clare was very complimentary about her experience, I know you helped to create a great impression of the North East. Very well done and thank you again for your time and hard work
Clare also tweeted that she had enjoyed catching up with the Talent Management participants and apprentices.
If you would like to find out more about how you can get involved with CS Local activities and hear about the latest opportunities sign up for updates from this blog or email Anne Hunter to be added to our mailing list.