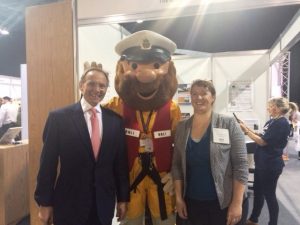 You never know who you will bump into at Civil Service Live. It could be anyone from the Chief Executive of the Civil Service to someone you only know through emails.
The conferences are days filled with engaging, interactive and thought provoking sessions, and they are a fantastic chance to meet other civil servants to network and share ideas.
Janina from the Home Office, has already attended three conferences this year and will be in London next week. Here she tells us about her experience.
Many of you will have seen me at Civil Service Live events in Glasgow, Sheffield and Coventry manning the Lifeboat Fund stand in the exhibition halls.
Civil Service Live has offered me an opportunity to continue to raise the charity's profile, promote our 150th anniversary appeal, a fundraising concept called Crew150 and our new Twitter account @FundLifeboat.  I've been fortunate enough to meet some truly exceptional people from across the Civil Service who are doing some amazing things to raise money for the Lifeboat Fund and I've enjoyed hearing your stories of involvement with the Lifeboat Fund and the RNLI.
I've been involved with The Communications and Public Service Lifeboat Fund, to give the charity its proper title, since 2008 when I started donating through payroll giving. I remember being drawn to the fact that a charity started by civil servants 150 years ago this year works to support the Royal National Lifeboat Institution (RNLI), itself a charity, saving lives at sea.  Did you know the RNLI rescues 22 people on average every day?
I'm a real water-baby and appreciate the risks involved with spending time on or near water, so being able to support the RNLI through the Lifeboat Fund ticked a lot of boxes for me.
Since 1866 and that first lifeboat, the Lifeboat Fund has gone on to buy another 51 lifeboats for stations around the UK and Ireland. My money has helped buy lifeboats, crew kit, provide training for volunteer crews and lifeguards both here and through the RNLI's overseas lifeguard training programme.   #RespecttheWater is the RNLI's ambitious plan to halve accidental drowning in the UK and Republic of Ireland by its 200th anniversary in 2024.
There is still time to sign up to attend Civil Service Live in London next week - 12 to 13 July. If you are coming along and are interested in the Lifeboat Fund go and find Janina and other Lifeboat Fund volunteers on their stand. And don't forget to visit CS Local, stand no. 66 on Floor 5!