Following successful volunteering with the CS Local Engaging Schools Project and Crisis that South Tyneside Legal Aid Agency (LAA) staff were involved in, we were asked to deliver a learning event at Civil Service Live 2016 in Sheffield. This had the aim to inform and inspire civil servants working in other government departments to use their Volunteering days. In 2015 Sir Jeremy Heywood announced that everyone in the Civil Service is guaranteed 3 days special leave each year for volunteering. Most departments support this as there is a clear link back to wider government agendas.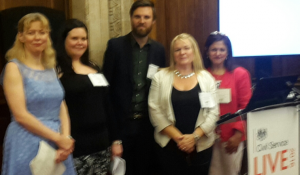 I worked with Karl Ford and Emma Vickers from the LAA and with two Department for Work and Pensions (DWP) employees, Julie Brack and Marissa DeSoysa, to deliver the presentation.
Karl started the presentation with an outline of CS Local and what it offers, including cross- government collaborative working, opportunities to try something different and the CS local ethos. Marissa and I then gave our experiences of working with the Schools project and working with Crisis.  Both delivered key skills around CV writing, interview skills and building confidence. The schools project was delivered to 14/15 yr olds whilst Crisis provided support to the homeless.
Emma expanded on the benefits of volunteering and how it builds on your own capability, builds cross office networks as well as the opportunity to promote the civil service. The session ended with Julie giving us a taste of some of the great feedback received from the schools and volunteers.
We would all recommend getting involved in volunteering through CS Local. You could take an active role in transforming the civil service and contributing to the wider social agenda. If you would like to be involved please get in touch with your local team through the blog address: http://civilservicelocal.blog.gov.uk.