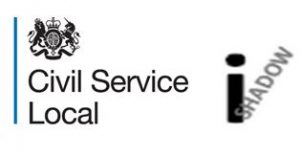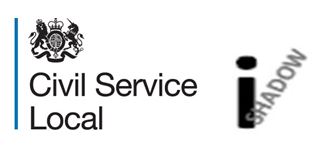 I currently work in HMRC, Personal Tax Customer Product and Process on customer insight & design.  I have the aspiration to move to digital but still retain a vocation as the voice of our customer, so I wasn't going to miss the chance to visit a User Researcher working in the Department for Work and Pensions.  This is one of the iShadow opportunities available through Civil Service Local. I soon heard from Jo O'Keefe the User Researcher I was to shadow.  Jo was keen to understand my requirements, so I could get the best out of my day.  I wanted to see the range of user research methods she used and to gain some early tips as my Digital & Agile Foundation Course was looming.  Jo quickly gave me a list of books and articles to read – thanks a lot Jo!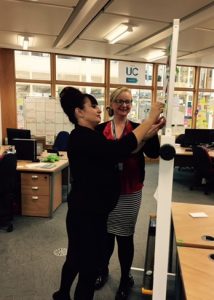 When I visited Jo on site, she was full of energy and made me feel really welcome as she explained her role as one of two User Researchers for the Universal Tax Credit Switch.  After introducing me to her User Researcher colleague Lisa, Jo introduced me to the rest of her team (Business Analysts, Product Owners, Service Managers and Technical Architects) at their daily scrum 'stand up' meeting.  Here,  the team brought each other up to date with completed work, information vital for coordination and obstacles that currently stood in their way.  The scrum was short and focused and gave the team to opportunity to talk through issues showing effective support of one another.
Jo then explained and showed me the many methods used within a typical product development process.  These ranged from lab based usability studies governed by GDS standards to less formal qualitative approaches, where she finds networks of customers through external support organisations for example housing associations and children's centres.  Jo explained that the range and depth of research gives her the confidence that her user research is robust and representative.
Jo and Lisa let me attend their meeting to run through a discussion guide they were going to use in a children's centre and a school later that week.  They were visiting a deprived area and talked me through the challenges they can face, they have no idea how the session might go until they get there.  Sometimes the user stories hit Jo and Lisa hard, some of the people they talk to haven't had the best start in life; some customers struggle to deal with the personal responsibility changes that Universal Credit brings, as well as the fact that the benefits system is digital by default.  I saw huge similarities between this and HMRC customers seeing tax for the first time through our digital Personal Tax Account.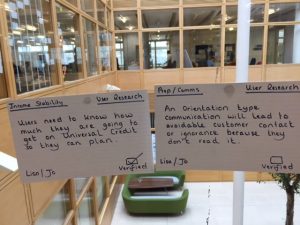 Jo also showed me some of the techniques she uses back in the office.  Anyone can put an assumption onto the 'brain dump' area, it is then up to Jo and Lisa to prove that assumption. In the afternoon I observed Jo leading an exercise with the rest of the team, called 'So What?'  Jo gave the team the high level list of user needs and the team then held a challenging discussion on what more could be done to meet customer needs. I spotted similarities between the needs of Universal Credit customers and HMRC's hardship customers and have done a similar exercise back at work.
It has been great to find out about new, tangible customer insight techniques, which I hope to continue to utilise.  I am looking forward to seeing Jo again soon as she is leading some sessions on my Digital and Agile Foundation Course.  Jo has also invited me back to observe her User Research lab work.  iShadow has really worked and continues to work for me.
If you would like to find out further information about any of the current opportunities available with iShadow, please contact Kelly Roush.