A week ago now, CS Local North West hosted the 'Changing Horizons' event in Blackpool, the first of its kind.
The focus of the event was to raise the aspirations of young people and their families in line with the Prime Minister's ambition "to make Britain a country that works for everyone not just the privileged few".  Blackpool has been identified as the lowest area of social mobility in the North West and designated as one of the new "opportunity areas" for investment.
In terms of scale of the event –
700 young people attended from Year 6 (age 10-11) and Years 10-11 (age 14-16), supported by over 230 Civil Service volunteers from 18 Departments.
The volunteers were either helping on the day or showcasing some of the Civil Service careers available.
26 activity tables or stalls hosted by employers of which a significant number were local employers, with 21 hosted by local volunteering / educational establishments.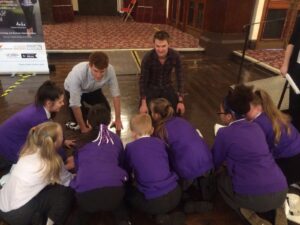 The day was designed to be interactive, with the students rotating around several activities to learn / build skills for life and work. Which inspired them that no matter where they start in life, they can achieve whilst highlighting the number of opportunities available in their locality.
On the day there was a lot of coverage on Twitter (see @CSLocalNW) and Sir Jeremy Heywood also covered the event in his blog last week.
Excellent feedback has already been received from those in education, volunteering and wider industry, while this is collated as part of the evaluation, additionally, many of our volunteers have written blogs for their home departments, with some completing a diary of the day.
Rather than try to summarise all of this into one blog, please watch this space over the coming weeks as we pull together all the feedback and stories together in a series of blogs from different perspectives.