Our 6-week Inspiring Young People programme was delivered to students from McKee College House, a provider of alternative educational provision for those at risk of exclusion or whose needs are best met outside a mainstream school environment.
The programme, sponsored by DWP's Head of Financial Services, Yvonne Wright, was led by a nine-strong team from their Commercial Directorate and consisted of a range of content including:
an introduction to DWP's work
effective use of social media
CV assistance and;
interview preparation.
Brilliant introduction to the world of work for our students. Really good team and confidence-building activities. Loved the student/mentor ratio and students responded really well!   Anne Taylor, Teaching staff
Students were split into teams and chose their own team names: The High Flyers, The Purple Wolves, Girl 3, The Peel Park Panthers and The Death-ray of Death. Each team were awarded stars and miles throughout the programme after completing activities, these miles were put onto a world map to see who travelled the furthest. This was a running theme throughout the programme which the students really enjoyed.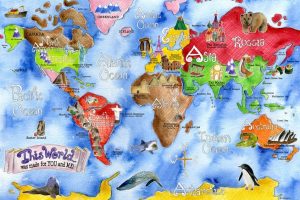 Amy Wheeldon from the project team said "I have thoroughly enjoyed being part of this programme and meeting the students. They have been an inspiration and I think everyone involved has got value from this experience."
Near the end of the programme students took part in a mock interview to give them valuable insight into the real life experiences awaiting them.
"I wanted to make a positive contribution to the community and develop my communication skills. Talking to a different group of people and engaging with them successfully made me think about different approaches." Michelle Watson, project team
Tom, a student, said: "This was amazing! I enjoyed it so much and I think my mentor Nicky should get a bonus!"
Overall the programme has been a huge success and the teaching staff praised the 1-2-1 mentor student relationships that developed during the programme. The head teacher Andrew Murray praised the programme and reiterated to his students what a great opportunity it has been working with experienced and dedicated civil servants.
"I liked the activities because it was fun and got us all to talk as a group and it improved my listening skills"   Carys W, Student
Project Manager Steve Whyatt has been really impressed by all the effort of both the students and the team to deliver a very successful set of sessions to 'Inspire Young People'.