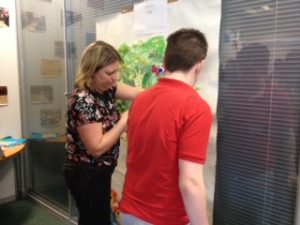 Starting in Dudley, the Breaking Down Barriers programme has flourished and expanded into additional HMRC sites and other government departments in the Midlands. The aim of the programme is to help students develop their confidence and improve their employability prospects, fostering a positive attitude towards the world of work and its benefits. The programme runs over a 3 – 6 week period, tailored to the needs of the students. It can be delivered on school or departmental premises, with each weekly session typically lasting around 2 hours.
A small team of staff from Merry Hill Customer Service Centre organised and delivered the latest programme, working with Brier School. They took on roles including project manager and pupil mentors, supporting the students throughout the various sessions.
At the end of the programme a celebration event was held. Students were awarded a certificate and folder of achievement, plus a small gift which was financed from fundraising activities. Staff, students and teachers shared their personal experiences of the programme and the students completed a final activity. The genuinely inspiring testimonials showed that the programme delivered mutual benefits. HMRC staff developed skills and competencies they might not otherwise have had the opportunity to do, and students grew in knowledge and confidence from the mentoring support.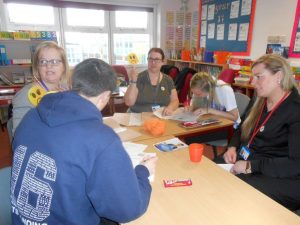 If your department is interested in the schools engagement project, or developing stronger links with local schools, contact Civil Service Local for more information:
Schools Project Leads
East Midlands   Jo Whitten
West Midlands  Jo Robinson