Join the group of volunteers at Doorstep Library who make such a positive impact to young children by visiting them at home with backpacks full of books to read stories, provide a listening ear for parents and generally encourage families to get out and about in their local community.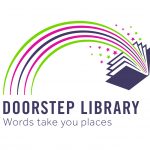 Sabrina who started volunteering with the Doorstep Library 5 months ago tells us a bit about her experience so far.
I started volunteering with Doorstep Library earlier this year and have found it even more rewarding than expected. I came across the charity through Civil Service Local volunteering opportunities as I work at the Ministry of Defence and straightaway found the Doorstep Library's approach and aims appealing and something I wanted to support.
I work alongside another devoted volunteer on the Pimlico project and together we aim to build trusted relationships with the families we meet on a weekly basis. This has not always been easy and has required dedication. However it has really paid off as we are now welcomed into their homes, have interactions with the whole family and are fully incorporated into the family weekly activities.
As a duo we support the children picking books which suit their interests, but also challenge and help with reading by instilling confidence and offering encouragement. We have already seen huge changes in some of the children, with one boy who now waits excitedly at the door; a huge difference from when he refused to come out of his room.
If you would like to know more about joining the team of volunteers the next Information Session is on Wednesday 6 September 18:00 -19.30 at the charity's office in Victoria. To book a place, or enquire about other sessions email enquiries@doorsteplibrary.org.uk mentioning CS Local when you book.