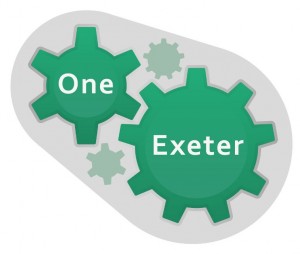 September saw the first meeting of a new and reinvigorated One Exeter network with 14 departments and agencies coming together at HMRC's Longbrook House. The purpose of the network is to bring together departments and agencies from across Exeter with an aim to work collaboratively. With so many departments and agencies going through transformation programmes, it makes sense to maximise the efficiency of our organisations and collaboration across Exeter would enable efficiencies to be made.
The group was asked to consider where collaboration would be beneficial, what that might look like and how to put this into action. The discussions generated lots of great ideas and a good deal of positivity about taking these forward. Ideas included a " Meet the neighbours" event to showcase the work of each department, sharing expertise and good practise and inviting other departments to undersubscribed closed training courses. The next meeting is on Thursday 16th November and being held at the Met Office.
If you work for a department or agency which is based in the Exeter area and would like more information about this network or would like to attend, please contact Nita Murphy or Chris Botham.