This year's Pride of the Civil Service North West Awards celebrated the often unsung work that civil servants do to help others in their communities.
It's the second year that the regional awards have been held with inspirational guest speakers, including Ian Mills, Chief Inspector with Lancashire Constabulary and Liz Versi, from the UK Border Force, joining the expectant winners and runners-up at Greater Manchester Fire and Rescue training centre in Salford.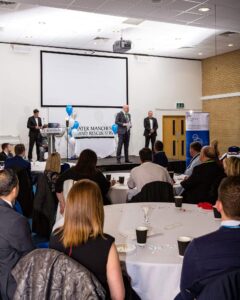 Eight awards were presented in total, including a Community Sport Award to Pam Corry who works on Universal Credit in Manchester. Pam, who started a swimming club in Harper Hey which, through hard work, has grown from ten swimmers to anywhere up to a hundred, said: "I wasn't expecting the nomination. We're a not-for-profit organisation which develops swimmers from seven to twenty-two and you just do what you do!"
Meanwhile, the team from the General Registry Office in Southport picked up the runners-up prize in the Fundraiser of the Year category. The team's Linda Edwards explained that: "In twelve months, we raised over £13,000 for those suffering from the 'invisible illnesses' of Crohn's disease and colitis, and we also joined the likes of Manchester Airport and Asda when we became the first government department to signpost accessible toilet facilities which state that 'Not every disability is visible'."
Two of the last year's winners, Jewel Miah and Mel Goodship, were also on hand to tell their stories. Jewel talked about receiving the 2016 Sport and Recreation Award while Mel spoke movingly of the campaign she has run, following the death of her son, to make others aware of the dangers of open water swimming.
Kathie Bates, the recently appointed Head of Civil Service Local, who presented one of the awards on the day, said: "Days like this are my favourites as they're about people who care about other human beings. They give a little glimpse of what civil servants do in their everyday lives to inspire us."
Nichola Rose, a member of 2015's CS Local North West Academy which first proposed the Awards and who helped to set up this year's event, added: "The Awards are important as they showcase what civil servants do outside the day job, giving extra value to the community. It's all about the fantastic things they do and the 'thank yous' that just don't make the front pages."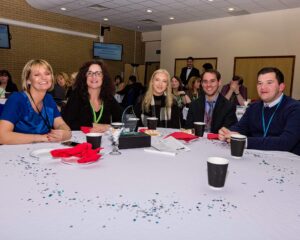 If this has inspired you to want to do a little more to assist citizens, you could start by engaging in one of the many opportunities available via CS Local. Please contact cslocal@cabinetoffice.gov.uk