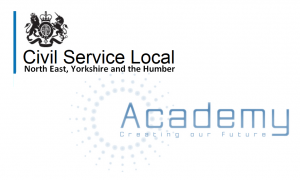 We recently celebrated the CS Local Modular Academy 'Class of 17' with an event at the Business Events Centre in Newcastle. The Academy provides the opportunity for delegates to work in cross departmental groups called 'families' with a family facilitator to support them through the programme. The families develop an idea for a group project and work together on this project during the Academy. Louise Scrowther from Department for Work and Pensions, recently completed the 2017 programme and shared with us her Academy experience. You can also read Louise's full article here.
All in all it was a great opportunity to develop and expand my skill set further and work alongside colleagues form various departments to build networks. Although at times I was completely out of my comfort zone, I fully embraced each action learning module and participated fully in the group project. The experience has been really worthwhile and has opened my eyes to what else is out there in the civil service. I have definitely developed additional skills that I will be able to transfer between departments.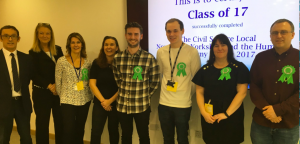 Alongside the opportunity to develop a project idea, delegates also get the chance to pitch their idea to Senior Civil Servants in a Dragons Den style. Jan Thirlaway, Deputy Director for the Department for Work and Pensions appeared as a friendly 'Dragon' on last years Academy programme and attended the Celebration Event in Newcastle. Here Jan talks about the success of the delegates at the end of year event. You can also read more about Jan's involvement in the Academy here.
Almost without exception everyone had built their confidence, done things they wouldn't have thought they could have done (particularly presenting to a large group - which they all did at the event) and a number have been promoted, got new jobs in other departments over the year and are more active about their development. The different people involved was also really striking - a very diverse group. There was a tremendous sense of success form the participants and I really felt their resilience and resourcefulness shone through, and the event reminded us all of that; and was very rewarding to be part of.
The 2018 Academy programme is underway and will be sharing stories from the delegates as they complete their Academy journey, so please keep a look out on our blog.