Blackpool's Winter Gardens was the venue for the first of this year's Changing Horizons events which aim to raise the aspirations of youngsters in Opportunity Areas. These are areas as the most challenged when it comes to social mobility.
It gave 475  young people chance to see the variety of employers from the public and private sector in Blackpool and the Fylde, as well as interacting with voluntary and youth organisations. There were employers present as diverse as the Police, the Food Standards Agency, Marks and Spencer, Toyland and Warburtons.
The range of exhibitors meant that there was a large range of opportunities for the young people to learn. They could talk to Blackpool Carers Centre about how young carers can develop their digital skills and hear from local colleges about opportunities to stay in education after secondary schools. A team from St John's Ambulance were on hand to promote life-saving skills and the local YMCA had teamed up with a local spa to offer free taster sessions while local musicians The Wednesdays ran an activity as well as adding to the atmosphere in the Pavilion by entertaining everyone with a great set of songs.
The children and their teachers started arriving soon after 9am. After watching an inspirational video, they were soon involved in moving around the market stalls and activity tables so that they could get the very most from the day.
There was great enthusiasm amongst the youngsters on arrival with all saying that they were really looking forward to the day while some were amazed at how many stalls there were to visit and people to meet.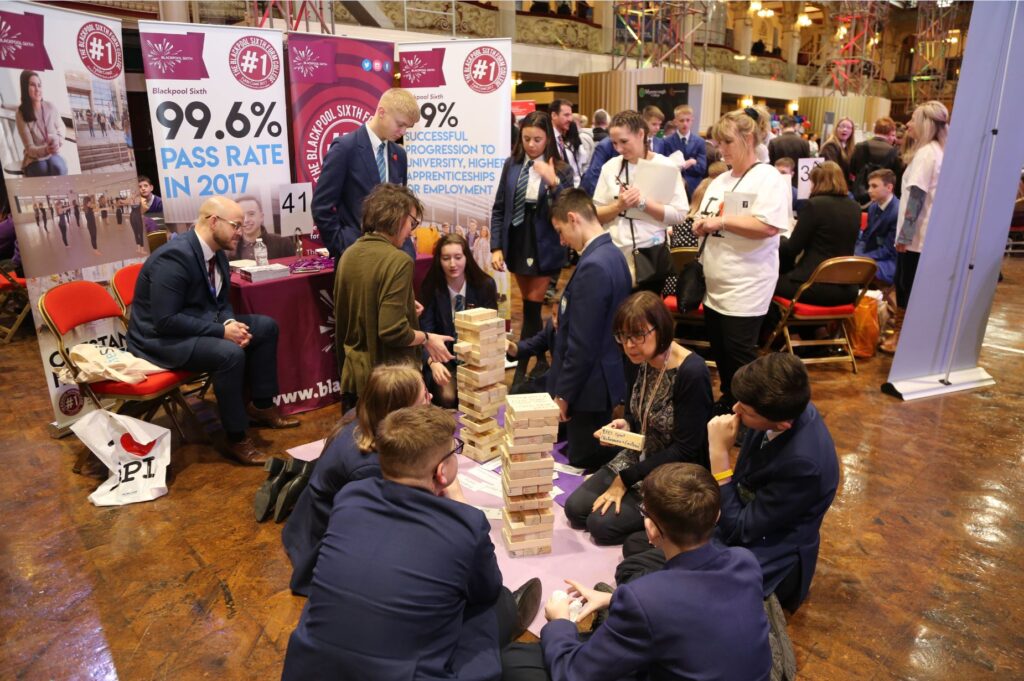 Hodgson Academy, based at Poulton-le-Fylde near Blackpool, were taking part for the second year running and the school's teachers, like its children, were also keen to get the very best out of the day.
One of the tutors told us: "It's the second year we've been involved and it's just fantastic as the pupils get to meet different employers and gain new skills" while another added that "for forty of our lucky students who got the chance to be here, it could be a life-changing day. It's just a shame the event couldn't last a whole week! You can tell that it's very well organised as the day has just flowed along very nicely. Hopefully, it will inspire the children for their future careers."
Next month, Changing Futures moves on to Oldham to give another group of youngsters a chance to widen their horizons. As for Blackpool, it really was inspirational to see such a large room buzzing with creativity and enthusiasm. We even managed to film a few of those taking part so you'll soon be able to judge the success of the event via CS Local's social media accounts! All in all, it was quite a day!