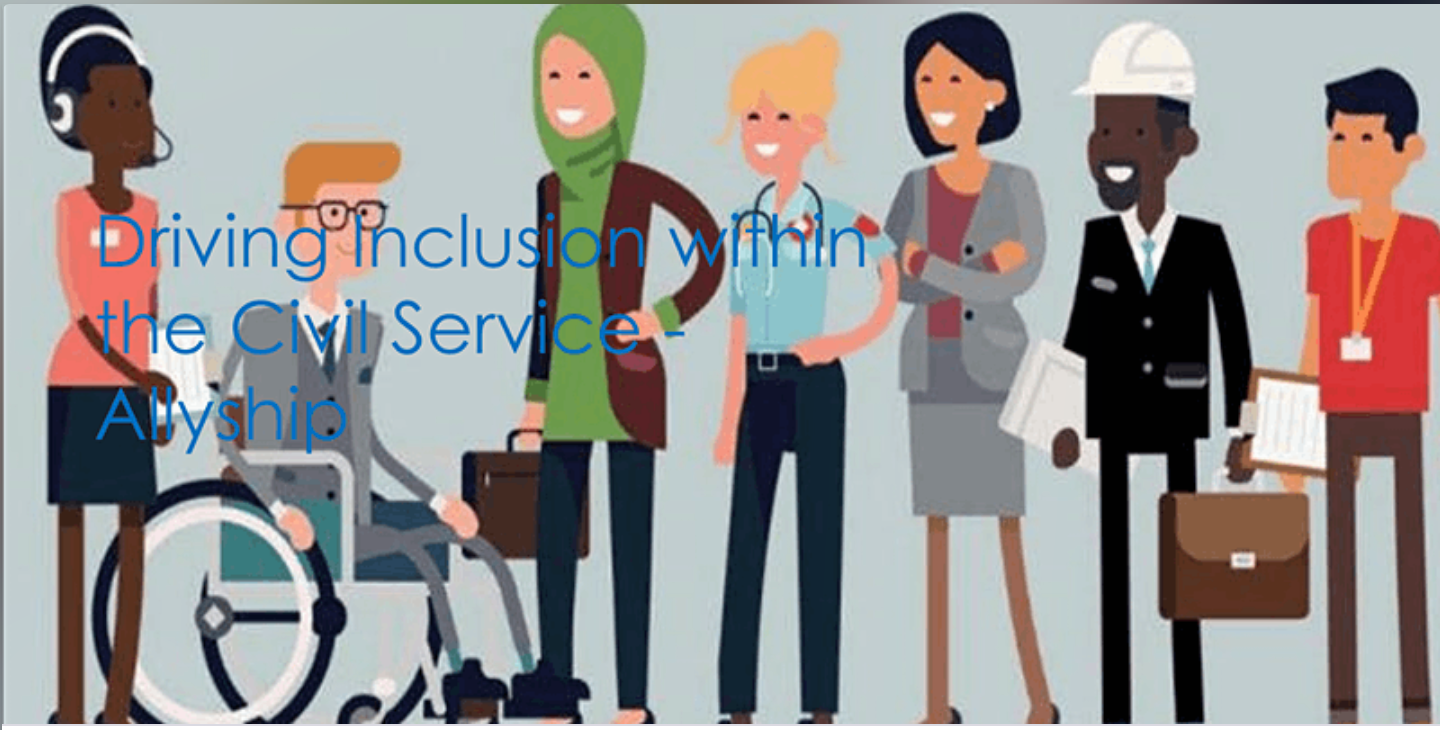 Allyship is a key component to the gateway of exposing the power of Diversity and Inclusion.  It is a continual investment to supporting others as well as being accountable.
Our learning, growth and commitment to Equality, Diversity, and Inclusion, will not happen without being challenged.
Join this online event which includes speakers from across the Civil Service who will share personal journeys and commitment to pushing the boundaries for inclusivity.
When is this online event taking place?
Date: Tuesday 15 March 2022
Time: 10:15am to 1:30pm
Where: Online via MS Teams
Agenda
10:15 am to 10:30  am – Introduction by CS Local
https://www.eventbrite.co.uk/e/269505106027
10:30 am to 11:00 am – Social Mobility with guest speaker Aaron Rashad from The Health and Safety Executive.
https://www.eventbrite.co.uk/e/269507282537
11:00 am to 11:30 am – RISE with guest speaker Claire Medhurst from HM Courts and Tribunal Service.
https://www.eventbrite.co.uk/e/269507673707
11:30 am to 12:00 pm – Mentoring and Sponsorship with guest speaker Sharon O'Shaughnessy from the Home Office.
https://www.eventbrite.co.uk/e/269508526257
12:00 pm to 12:30 pm – Autism with guest speaker Jane Culkin from HM Revenue and Customs.
https://www.eventbrite.co.uk/e/269509047817
12:30 pm – 13:30 pm – a:gender with guest speaker Emma Dunn from HM Land Registry.
https://www.eventbrite.co.uk/e/269509739887
How do I register to attend?
You need to register for the Introduction by CS Local session and then you can attend as many events as you wish after that. More information about each session can be found by clicking on the respective eventbrite links. Please register using your civil service work email address. Please discuss this event with your line manager ensuring you have their permission to attend. The events are all being held via MS Teams and you will need to access this via Eventbrite on the day.
Please note that you must be able to access Microsoft Teams. If you are unable to access Microsoft Teams on your work device, you may wish to join using a personal device. If having booked a ticket for a session that you are no longer able to attend, please ensure you cancel your ticket promptly, so another colleague has the opportunity to join.
Remember; Diversity is having a seat at the table; inclusion is having a voice and belonging is having that voice heard.
How can I find out more?
If you have any questions about the event, please contact: Cara.Oladeji@homeoffice.gov.uk or sheri.balogun@justice.gov.uk