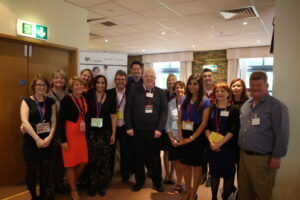 "Overall great experience"   "An amazing opportunity and a fabulous Academy"  "The Civil Service needs more events like this to bring us together as one to learn, develop and grow"
Just a few comments from delegates at the recent East midlands Academy which took place at Lawress Hall in Lincoln during the last week of May.  Mark from the Valuation Office Agency was one of 48 delegates who learned more than he thought he would at the 4 day course.
"Arriving as a delegate at the East midlands Academy 2014, I wasn't really sure what to expect. The main theme was Civil Service Reform, but for me the focus was personal development, and I got it in spades.
We were swiftly divided into teams, and set to work to devise a plan to save an imaginary zoo from closure and then present it. The high pace meant we had no time to worry, and we quickly pulled together. Further work was interspersed with speakers designed to inform or inspire us. One session on team roles, and how to work out your own, was particularly fascinating.
All this led to the big event on day 3 - the Dragons: Having worked as a team to generate and present ideas, and heard more about the Reform Plan, we were now asked to think of a great idea on how to improve something, and then persuade a team of senior leaders how great it was. This was the most interesting, but stressful, part of the week, and once the Dragons had considered and accepted our idea the relief was massive.
The only remaining problem is that having had a great idea, we now have to do it.
The Academy was far, far better than I could have expected, and I've met some great new people who've given me a whole new perspective on my career."