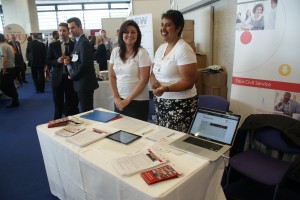 I spent a great day at Civil Service Live in the Queen Elizabeth Conference Centre, Westminster, today.
The centre was alive with civil servants from across the country. I met people from Glasgow, Cardiff, Portsmouth, Peterborough, the Medway in Kent and many more - all keen to learn and join in the civil service of the future.
The day was opened by Sir Bob Kerslake, introduced by Olly Robins, the Chair of our National Steering Group and Cabinet Office lead for reform. Amongst other things Sir Bob spoke about how reform was taking place across the country and highlighted the role of Civil Service Local in encouraging cross departmental collaboration in services to the public and engaging with local communities. Later in the day Olly took us through the vision for the Civil Service of the 21st century.
I was also really pleased to see members of Team Albatross, participants in last year's CS Local Southern Academy who are still actively promoting the reform message in their local areas.
It is encouraging to see more civil servants prepared to go the extra mile to increase their own skills as well as give better services to the public.
I look forward to the second day tomorrow - come and meet me and the team at the Civil Service Local stand - or come and try spot mentoring - a great way to see if mentoring is for you. Civil Service Resourcing colleagues are also keen to hear your views on the CS Jobs-online system, either as a job hunter or as a vacant holder - come and tell us how to improve.