The highlight of my work year in 2013 was being luck enough to facilitate at the North West Academy. I enjoyed it so much I'm returning for this year's event which starts on 30th September and runs for 4 exciting, inspiring and very creative days. Nominations for delegates are now open.
---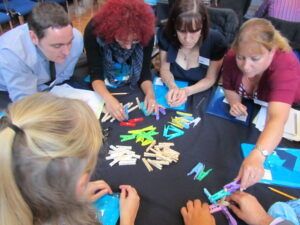 I really didn't know what to expect when I first got involved, but over 4 days last autumn I felt very proud to be part of such an innovative programme where I saw people's confidence grow with my own eyes in such a short space of time. The group I worked with are still going strong and working on a project which hopes to improve some of our recruitment processes in the civil service.
This year's Academy is again a 4 day residential event and is aimed at AA to EO grades and equivalent. So, who is it for? I'd say that if you're motivated, keen to bring change and are looking for a chance to work across the public sector, then this is for you. It also helps to have a pretty open mind. It's not always conventional - there's a bit of a theme to some activities this year which I think are "super" - there's a clue there.
The Academy will run from 30th September to 3rd October at the Lancashire Constabulary Training School in Hutton, near Preston. Information has already been sent out to senior managers in the North West, so look out for details locally or speak to your line manager. We'll also be posting more details on this blog in the next few days.
If you have any more questions please contact my colleague Colleen Watkins
I hope to see some of you at this year's event - we can be leaders, we can be heroes!