As one of the many weekend warriors who fancy themselves as a bit of a David Beckham, or Wayne Rooney, I jumped at the chance to be involved in the recent Civil Service Family Fun Day, that centred around a 7 a-side football tournament.  So, with a bag of half time oranges in hand and a welcome return of the North West sun, I turned up at Edge Hill University to meet my new team mates and see what the Fun Day was all about.
One of the strengths of Civil Service local is its ability to bring civil servants together for the greater good, and as I walked up to the football pitches it was obvious the amount of effort that had been put in to setting up the various stalls and activities to keep friends and families entertained, raising money for the local St Catherine's and Trinity hospices, while the competition commenced.
There were a total of seven teams in the first ever CS Local cross government competition, each contributing an entry fee towards the charitable purpose of the day. Sensibly the matches were kept to ten minutes per game and, as I'm of the age where my knees make a creaking sound, this was a welcome discovery!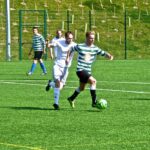 Although competition was fierce, all the matches were played with a sportsmanship and sense of good humour that further acknowledged the spirit of the day and offered their own rewards for taking part. You may have guessed that I didn't get to raise a trophy!
It is perhaps with some irony that the team from the Ministry of Defence did not concede a goal all day and went on to win the competition, beating Uriah Heap in the final with a single hard fought goal in the latter stages of the game. Although, between you and me, I'd secretly been hoping for a penalty shoot out and all the tension that comes attached.
As I write now, I may have pains in my ankles, shins and back, but I also had a really enjoyable afternoon with fellow civil servants doing their best to give something back to the community by raising just under £500 for two local hospices.
This was the first of what I hope to be many Civil Service days where cross government collaboration can harness our leisure time for the greater good.
Simon Jolley HMRC