The Family Fun Day held on Sunday 7th September at Edge Hill University, Ormskirk was a great success raising nearly £500 for  Trinity Hospice, Blackpool and St. Catherine's Hospice, Preston.
Organisers of the fun day had prepared a wide range of stands including tombola, raffle and a wheel of fortune with a large number of prizes as well and children's races and cakes. Organiser Kathie Bates said
 Its's for a good cause and I just hope the people have fun and the weather holds out.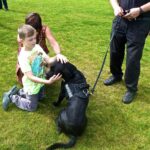 Luckily the weather was bright, warm and clear which was perfect for the fun day. We had over 300 people join us, civil servants and their families from over 10 departments. This was the 1st event of its kind in the north west and we should thank the many civil servants who organised, hosted and took part in the event all in their own time. It was great seeing families and colleagues having fun together outside the work place and to cap off a superb day we got to see a great demonstration by the North West Search Team and their sniffer dog George.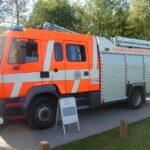 The Lancashire Fire and Rescue Service also attended the event and allowed children to get into the cab of their Fire Engine and find out how it works.

However, the highlight of the day was the 7-a-side football tournament which took place throughout the day between several different departments. The matches had a good competitive spirit and were fun for the players and the large audience.  Andy Ashworth said
Everyone's joined in and gotten into the spirit of the thing, it's really good.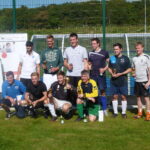 The competition final at 2pm was between the MoD and the HMRC with the MoD coming out on top, narrowly beating the HMRC team 1-0 after a tough defence from the HRMC.
A member of the MoD team Craig Cook said "The MoD put in a lot of hard work but the stalls have helped raise a lot of money."
The money raised on Sunday will go towards providing palliative care to patients as well as their families and carers.
The day was summed up nicely by Jayne Krol:
It's just good to see people from so many different departments giving up their Sunday to help raise money for a good cause
This article and the pictures were pulled together by a young student called Christopher Lloyd from Liverpool Community College as part of a joint initiative with Civil Service Local.