Are you looking for ideas to use part of your 5 days learning and development per year and would like to take part in doing something worthwhile for young people?
If your answer is yes, how about taking part in one of our Engaging our Schools programmes, aimed at year 10 and 11 students providing them with a series of motivational talks around careers and employability skills?  The programme is designed to get the students to develop their career aspirations and provide them with the right tools and know-how for planning for their future careers.
The types of topics that will be covered are
CV writing
interview techniques
types of roles both inside and outside of the Civil Service
applying for jobs on-line and the use of social media when job searching.
how to present yourself in the world of work
What we are looking for?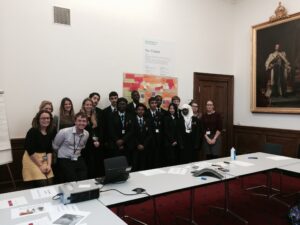 6 civil servants or a team of 6 civil servants to deliver the Engaging our Schools Programme to 12 of Tottenham's young people at one of the Central Government locations. Each team will have one Project Lead and 5 additional team members.
How much time will it take?
The programme will run for 6 weeks for 2 hours a week and you will spend on average a total of 15 hours in total to plan and deliver the programme.
What are the benefits of taking part?
The programme provides a great opportunity to develop new skills and capabilites such as leadership, building capability, managing a quality service and seeing the bigger picture.
The Project outline is flexible so as to adapt to a particular schools needs and this gives the team leader an opportunity to develop negotiation techniques as well as Project/Team Management skills.
Team members will develop confidence in new environments and facilitation / mentoring skills whilst promoting the civil service as a good employer.
If you are interested in taking part or would like more information, please contact donna.donaghey@hmrc.gsi.gov.uk