Over 4 days in Hutton, near Preston, Elaine Vance kept a diary of her experience as a delegate in our flagship Inspirational Leadership event.
---
Day 2
Feeling better today. We're being looked after and we've bonded well as a group. I'm apprehensive as there's a pretty full agenda ahead of us. It's exciting though, as we have some important guests coming from London.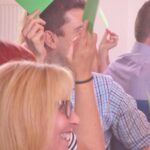 The conference room's buzzing with enthusiasm and we're all feeling quite inspired. Soon enough, our guest speakers arrive: Richard Heaton, Emma Reid and Ben Rake from the Cabinet Office.
We're lucky enough to have Emma join us at our table. She even puts on a sailor's hat making her part of our family straight away! She was very encouraging and listened to all our thoughts and ideas about leadership.
Later on, Leo Castledine the Head of Civil Service Local joins us in our syndicate room for a presentation and influence exercise. It was all quite nerve-wracking and unlike anything I'd done before. It also showed what a talented family we have.
After a group photo in the lecture theatre, they told us what was coming next and we all had the stuffing knocked out of us. We all shuffled off to our room, wondering how on earth we could meet the big challenge they'd set us for the very next day  . . .