Over 4 days in Hutton, near Preston, Elaine Vance kept a diary of her experience as a delegate in our flagship Inspirational Leadership event.
---
Day 3
I woke with very mixed feelings. I was excited and missing home. the latter was short-lived once I met up with my "family" for breakfast.
We'd enjoyed many speakers in the first couple of days, including Mark Livingstone. I sat there in awe as he confidently advised us on how to present the pitch for our project. But it was now time for us to put our heads together and get our project a name and a vision before we presented it. Our emotions were all over the place but we managed to agree on a structure, and on that all important name for the project.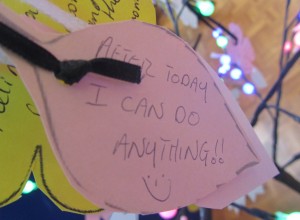 It was soon time to face our audience and to be as creative and informative as we could. We were second to last on - which didn't help the shaking hands and knocking knees but we did well and it felt great once we'd got through it.
It was then time to celebrate and we had a wonderful awards evening hosted by Glyn - thanks from all of us!
I was exhausted by the end of the day and starting to feel sad that this amazing experience would soon come to an end . . .