Over 4 days in Hutton, near Preston, Elaine Vance kept a diary of her experience as a delegate in our flagship Inspirational Leadership event.
---
Day 4
So, it's our final day. I feel a bit sad and quite exhausted and am wondering where we go from here.
Back in the conference room, we are guided by Janine on how to get our projects off the ground. I've never been involved in project work like this before so was a bit stunned. It was then a great relief to meet our coach Carley who was clearly very knowledgeable and supportive from the begining.
I'm excited about the next twelve months now asnd keen to get strted. We're all meeting up soon. Bring it on!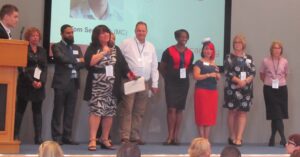 In closing, I should like to say a big thank you to the Academy Team from Civil Service Local North West for all their hard work. It's been an inspiring experience so far.