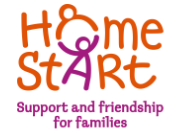 Home Start is a national organisation which helps enable parents to be the best parents they can be for their children. Families come to Home Start asking for help for a wide range of reasons and YOU could be the one to make a real difference.
Home Start are looking for volunteers who are willing to either:
give 2-3 hours per week to support a family in need or
there is a need for local trustees with a variety of business skills: administration, accountancy, IT and HR or fundraising skills are sought. With an average commitment of just 10 hours a month,
Full training and induction is given through an 8 week programme which can be carried out at evening classes.
Volunteers should be friendly & supportive. It is not essential to be a parent yourself although this could be a benefit when relating to the difficulties the families are facing. There is a constant need for home visiting volunteers for local Home-Start, which can suit part time staff.
Not only will this opportunity give the volunteer a great sense of giving back to the community but this opportunity could also help the volunteer develop competencies in:
Leading & Communicating
Collaborating & Partnering
Changing and Improving
You could be just what your local Home-Start is looking for. For more information about Home Start please go to: www.home-start.org.uk
To apply please complete the Civil Service Local opportunity form and return to: Liz Challand