It doesn't seem like 20 months since an e mail popped into my inbox about something called the Civil Service Local North West Academy.  What I read sounded challenging and interesting.  The academy was going to concentrate on the Civil Service reform plan and, having read all the information, and done some research on the intranet, I decided it was something I would be interested in and I wanted to get involved with. I talked it over with my manager, and we both agreed I should apply for it. A few months later I heard I had been accepted.
In September 2013, I made my way to the Lancashire police headquarters in Hutton for a 4 day residential course. This was to be the start of my academy journey, a journey that would see me meet new challenges, expand my knowledge, views, and also meet new colleagues who have now become friends.
On the first day we were divided up into our academy families, using the old card game of happy families. I was put into the Bud family with 8 total strangers. Although the only thing in common was that we were all civil servants, it quickly became apparent we all wanted to be there, taking part in learning and gaining from what the academy could teach us.
The week's main aim was to come up with a project to help, not only promote the civil service, but also to help lead to better understanding of how the different departments work, and to also maybe help make  peoples' understanding of things more fluid.The week finished with each family presenting their project to a panel of senior leaders.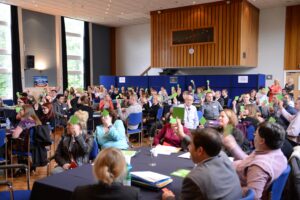 Our initial project changed a few times since its conception, for reasons beyond our control. But, we have dealt with the knock downs and dusted ourselves off many times always getting back up stronger than before, to carry on, because when one door closes another will always open.
My experience  with the academy has helped  me to develop many skills, including  stretching  my mind, thinking  outside the box, working  together, respecting yourself and others and  being flexible in your approach to things; to name just a few.
I am now ending my time with the Department for Work and Pensions, and moving to pastures new with the Home Office, but the knowledge and experiences I have gained, and also the friends I have made, particularly my academy family, still stay with me for the rest of my life, and I thank them and everybody I have been involved with during my academy and talent group journeys. Even though I am moving on, I hope to stay involved with CS local, to continue to grow and develop what I have learned.
Would I recommend the academy to others?  The Simple answer is yes I would.  It's hard work, it's challenging, but also very rewarding,  and, ok, it's not for everybody, but it is enjoyable, and I have made some brilliant friends along the way, and learned about myself, and have achieved things I didn't think I could,  but if someone has the drive and the ambition and hunger to get involved, to help develop and possibly change things.  You only get out of something what you put into it.
I would also like to thank Kathie and all her team for all their help, support, guidance, and also my management here at Warbreck for all their support.
Good luck everybody
Regards for now
Graham.