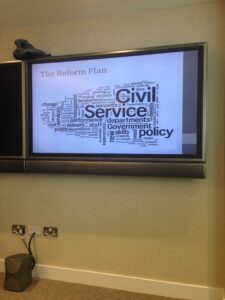 We are a project group, formed at the Civil Service Academy in May 2014. We have designed, developed and finally implemented a project idea from scratch. The idea, based on the Civil Service Reform Plan, involved bringing people from different government departments together with a third sector organisation, with the intention of creating a knowledge sharing platform.
On 29 January we ran an event in Nottingham which included front line staff from the Department of Work and Pensions, Office of the Public Guardian and Age UK, to share knowledge and information about the work the departments do and the issues our older customers face when dealing with them.
We facilitated the morning session with a number of activities around sharing knowledge and best practice. The participants then received a presentation on the Civil Service Reform Plan to give some background on why we had decided to run such an event and the afternoon session was delivered by Age UK where they gave an overview of all their services and what's available to our older customers.
The day itself was a success and feedback from the participants was that they wanted more of these opportunities to enable better relationships across departments and for better signposting to Age UK or other third sector organisations.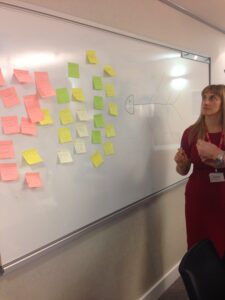 The second part of the opportunity gave the participants the chance to see first hand some of the services that Age UK offer and be involved in some of the activities they provide. This was an eye opening experience for everyone taking part as we met older people who are suffering with dementia or who just wanted to get out of the house into a social environment. We played games with the older people and were also able to talk to them about some of the services that our departments provide.
Essentially, we were there to find out what life is like for some of our older customers and be involved in our local community.
Feedback from the participants includes:
Brings it home - I had the same man asking me the same questions over and over again and it reminded me what some of our customers are dealing with
and
I found it humbling
Our next steps are to run another opportunity in April and expand the project to include frontline staff from HM Revenue and Customs following our evaluation and refinements made to the original event. Working collaboratively with Age UK we will also be able to offer more services our staff can take part in.
Overall it has been a wonderful experience working on the project. We have gained a vast array of skills and hope to challenge ourselves even further.
Keep an eye on these blog pages for more news of what our Academy groups are doing and the opportunities available for you to join in where you live or work.