When my colleague Jayne Krol first suggested a charity bike ride, I jumped at the chance. I had visions of cycling along on a fine late spring morning enjoying the Lancashire countryside, admiring the bluebells and watching lambs gambolling in the fields. I thought it would be quite easy. But when we arrived at Preston's Grasshoppers Rugby Club very early on Sunday morning, it was bitterly cold and looked like rain. As a Welshman, I presume that most of England is totally flat, I've been to Norfolk after all. Well, the north west of England never fails to surprise me and it turns out Lancashire has hills, lots of them. I rode up most of them on Sunday! It was very hard work but also a pleasure.
We all had a great day helping out a very good cause, St Catherine's Hospice in Preston. As one of the hospices which has helped CS Local make the Government Access Point (GAP) project possible, we were proud to bring together a team of Civil Servants to get on our bikes and help raise some money for this wonderful institution.
Our crew of volunteers came from a range of departments including, the Department for Work and Pensions, HM Courts and Tribunals Service and HM Revenue and Customs. Three particularly brave men opted for the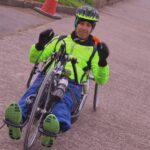 gruelling 75 mile challenge whilst the rest of us managed the 50 mile loop in very respectable time. A particular mention must go to our group of CS Local supporters, the husbands, partners and friends of CS Local including Lee, Chris and Haydn, not to mention the inspirational Alex Krol who tackled those steep hills on his hand bike, no mean feat!
It wasn't just cyclists out in force on the day, our wider CS Local family were also there with a cake stand and tombola as well as a very warm welcome for those of us arriving back on two wheels. For me, it was a chance to put some names to faces. I'm lucky to have the job of communicating much of  the good work done by my colleagues in CS Local and am regularly sent stories and pictures for this very blog. I've written a lot about the GAP project since it started just over a year ago. I'm always humbled by the work they do to try and help to ease the burden a little for people who are experiencing a difficult time. I've also listened to our partners from the hospices we have worked with say how much their efforts matter.  It was great for me to finally meet people like Mike Bellamy, Oliver Mawdsley and Chris Challenger who work so hard on the GAP team. I've put their faces on posters and I've written about their valuable contribution, so it was lovely to finally get to see them in person at last.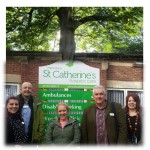 So far, the team as a whole has raised over £2,000 for St Catherine's and of course anyone wishing to sponsor us can still do so.
It was a wonderful day that captured the true community spirit of CS Local for me. On behalf of all of us at Civil Service Local I'd like to thank everyone who cycled, baked and supported us at the event, a great team effort as usual. It really was an honour to be involved.