The first thing I learned about resilience was not to use the word stress when I'm in a difficult situation, but to use the less negative 'feel pressured' instead. According to the visiting expert Rene Barrett, from trade body North West Employers, negative language can eat away at the competence and self-esteem that are vital to being resilient. Other factors in building a resilient attitude include having strong relationships with others and asking for help. A clear sense of purpose, values, drive and direction also help you to be persistent and achieve goals in the face of set-backs. Flexibility and adapting to changing situations which are beyond our control are essential to maintaining resilience.
I was able to identify that I do not recover quickly from difficult situations and I need positive emotional states to build my resilience. Rene said there are ten positive emotional states which will help build my resilience. They are joy, gratitude, serenity, interest, hope, pride, amusement, inspiration, awe and love. She asked how many positive emotional states I felt yesterday. I told her I had felt pride from my son, inspiration from a friend and love from my boyfriend. The exercise helped me recognise which events provoke which emotions, and I realised that I work better when I am happy, which makes me feel good about myself.
Rene said it is important not to let other people's moods and behaviours affect us, because emotions are infectious.  She referred to someone with a negative outlook as a doom goblin.  I don't want to be one. Being emotionally low harms your immune system, which can result in feeling run-down with symptoms such as head-aches or cold sores. However, when someone is positive and happy around me I feel happy for them and get a buzz from their good news. When my emotional state is positive it enables me to connect with people better and improve my decision-making.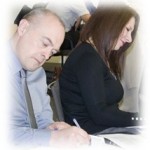 The discovery session has helped me identify where I can help myself, and I now know that my resilience is my own personal responsibility. I completed a free questionnaire on andeceived a detailed report that identified which areas I could work on. I can fill-in the questionnaire again in the future and compare my results to see if my resilience has improved.
The discovery session made a real impact on me. I have realised that I need to focus on my own resilience and boost my wellbeing. I am also going to use a technique called one- moment meditation, which will help me make a meaningful shift in my state of mind. My work is contractual and my effort is personal. The more effort I apply the more success I will achieve and pride I will feel. I am now determined to be a resilient person who will view problems as challenges and opportunities.