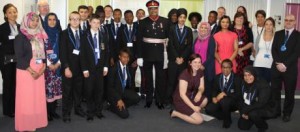 It's not easy to make careers advice engaging – but that's exactly what staff from HM Revenue and Customs in City Centre House in Birmingham have been doing.
They've been taking part in the Engaging our Secondary Schools programme, our initiative which connects offices with local schools to give students an insight into some of the options that are open to them when they leave school.
Staff worked with George Dixon Academy, a secondary school in central Birmingham. For 6 weeks, 14 Year 10 students visited City Centre House for 2 hours a week. They delivered sessions on career goals, interview skills and customer service. An 'Apprentice' themed exercise required the students to put their sales skills to the test, as they sold cakes and samosas to colleagues, raising over £360 in the process.
Paul Sabapathy CBE, Her Majesty's Lord-Lieutenant for the West Midlands, attended the final celebration event on Friday 5 June and said
I was hugely impressed by the results of the six-week coaching and mentoring course provided by the highly motivated and friendly HMRC staff in Birmingham to students of George Dixon Academy to improve their employability and life chances.

The programme not only improved the employability of the students but also helped the staff to develop their own communication and managerial skills. It is a win-win situation and is to be highly commended.
Claire Shephard, the programme co-ordinator, said
The celebration event was a fantastic way to end National Volunteers' Week.  Staff  have used their volunteering special leave to help students from George Dixon Academy over a six-week period. The students have learned from the experience and thoroughly enjoyed their visits to our office each week. But just as importantly, the staff have learned from the programme as well. They have developed their own skills, such as project management, presentation skills and team working. They have also met and worked with staff from other business areas in the building and built new networks.
One of the students, said
Through this programme I learned to work in a team and developed many skills. We worked together to achieve the tasks we were set. Thank you to all at HMRC for this fantastic experience.