Civil Service Live 2015 in Manchester on 14 September was a great success with over 2,000 civil servants visiting. I was only one of them. I'm sure we all have a story to tell from the day, here's mine.
I'm writing this just before setting off for this year's Civil Service Local Academy in Chester. At last year's event, they presented me with the "Mr Ben Award". It was to recognise the fact that I'd performed many roles at the Academy and was named after a famous children's TV character who wore many different hats - metaphorically and otherwise. Now, I left my collection of headgear at home last Sunday but in terms of fulfilling lots of different roles, Civil Service Live was no different!
Obviously, I was there in my capacity as Communications Lead for Civil Service Local in the north west so I could share the experience with you on this blog and catalogue the day through photos and videos. Of course I was also on hand to help our many Civil Service Local stands,  but for the first time, my colleagues from the Child Maintenance Group and I also had a stand of our own called Unlocking Potential, or UP as we like to call it. It was going to be quite a day.
The first thing that struck me about this year's event was the variety of stands to visit. I bumped in to an old friend, Anas Sheth who works for HM Courts and Tribunals Service. Anas and I had worked together at last year's Academy and it was good to catch up. He told me
Anas unlocks his potential

I'm amazed by all the different stands - there are loads of them - and they're all very interesting. I can't believe quite how many people are here. It's really good to see!
He even had a go at unlocking his potential on our UP stand. We were there to represent the Department for Work and Pensions (DWP) and share an original idea which had worked for us back at the workplace. Basically, it's an in-house course we developed ourselves to boost people's confidence so that they will go on to apply for more formal learning opportunities. One of my colleagues, Ed Doran said he was glad that we'd been included on the day and was very proud when Noel Shannahan, our Director General of Operations for DWP dropped by.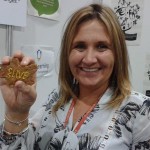 Ed knows a thing or two about formal learning opportunities himself as he's currently studying for a Level 5 NVQ qualification in Leadership and Management through the Civil Service Local Higher Apprenticeships scheme. So, like me - he was also helping out on more than one stand.The Apprenticeships stand was ably run by Helen O'Rourke who was overwhelmed by the number of visitors. At least she had a stock of gingerbread men to feed her guests.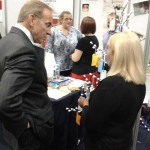 Another stand sweet enough to offer baked goods was our Academy stand, and it was proving just as popular. Although it was too late to sign up for this year's event, we had plenty of interest for next year's Academy as well as our new offering aimed at middle management which will be launched next March. It was also an opportunity for our former delegates to share their passion about the projects they've been running over the last year. Angela McCarthy and her colleagues Alex, Julie and Elaine did a great job of pointing out the non-salary benefits of working as a civil servant. They did some serious networking and even saw a familiar face or two.
I had my own networking to do as we're busy trying to set up a new Diversity Network for the north west. I started off with the Cabinet Office's Paul Carswell at the Diversity stand, who was very helpful and gave me plenty of good advice. I then spoke to my next door neighbour, Jamil Mohamed. Jamil was running the Civil Service Muslim Network stand adjacent to our UP stand. He was very enthusiastic and was able to provide me with some useful contacts.  I then went on to visit Jacqui Gavin on her a-gender stand. We had a very enjoyable conversation about the transgender and transsexual communities and the challenges faced by colleagues in the civil service who have changed or need to change permanently their perceived gender, or who identify as intersex. It's not a subject I knew enough about, and I was honoured when Jacqui invited me to sign up as a friend to the a-gender network. I even got a badge with a meerkat on it. The reason why it's a meerkat is fascinating - but if you want to know more about that or the network itself, I suggest you get in touch with a-gender yourself.
It was a day all about making connections and discovering new things. Jayne Marsden visiting from DWP shared her thoughts
Jayne can't wait until next year.

It was my first time at Civil Service Live. The sessions were very informative and engaging and gave me a new sense of direction as a leader. I enjoyed visiting the different stalls and meeting people from so many different departments. It was also good to see so many old friends. I saw Paul Voller on the Discovery Sessions stand and was surprised by the broad variety of topics they cover. I'm looking forward to signing up for one and I'm definitely coming back to Civil Service Live next year!
I'm also looking forward to next year, and I've got plenty to be getting on with in the meantime. But I'm very proud to have been involved in this year's event and to continue to be a part of Civil Sercvice Local.
Our North West Co-Ordinator Kathie Bates summed it up by saying
I was immensely proud of all our Civil service Local people at Civil Service Live. We had more stands than ever, representing our programme which continues to grow and  improve. Our blueprint for a better civil service keeps changing, and that's a good thing. We will keep on learning from one another, celebrating and benefiting from our differences.