Academy week reached its peak on Thursday 24th September as our teams of cross-government delegates faced up to a "Dragon's Den" style challenge, pitching their project ideas to a team of senior leaders. Our Academy blogger, Beccy Purcell has been sharing her thoughts all week. We're pleased to say that Beccy's team - known as the Wolf family won our "Pitch Perfect" Academy Award - voted for by their fellow delegates who decided that their presentation was the best. Beccy was also presented with the "Purcellitzer Prize" for her services to blogging on this site. Thanks and well done!
Here are our award winner Beccy's thoughts about Day 3
It's finally here - "D - Day"! This is when each of our "family" teams has to pitch a project idea to a panel of senior civil servants or "Dragons". It's a nerve-wracking time. Only four short hours to develop a viable and inspirational project and then present our ideas. We'll also need to ultimately implement those ideas in an attempt to influence or support Civil Service Reform.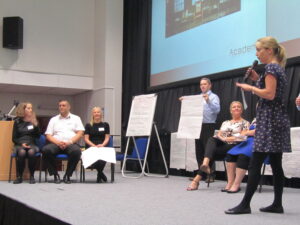 After much consideration and discussion, trying out ideas and using a lot of flip chart paper, we settled on our project idea: A customer focused initiative called Promoting Engagement with People to Uplift Perceptions (PEP UP) to help influence our profile as civil servants during a time of change and reform.
After a number of rehearsals, and some inspiration from a well-know television programme about people just watching television - we were ready to pitch our ideas. Nerves were fraught as the order of service was revealed. We were on second after a very strong opener from our colleagues in the Giraffe family team.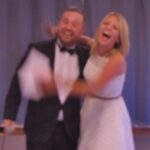 Five minutes later, we'd shared our PEP UP idea with the Dragons and they loved it! In fact, even our facilitator Nicki was lost for words and possibly a little overwhelmed. All the hard work paid off and we were able to enjoy the rest of the presentations - all of which demonstrated confidence, inspiration and a real sense of commitment. The Dragons were very supportive and have given my team and I good advice and offers of help to move our project along. So, the future is looking bright for my team and I right now.