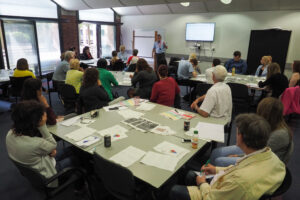 Around 30 civil servants gathered in Nottingham to gain some insight in how to use the Civil Service Jobs portal to get the best results, using the competency framework to its fullest. The tables were turned on the delegates as they were asked to look at some competency examples through the eyes of a sifter.
Nick Tooley led the session and his light-hearted, friendly style of delivery complemented what can be a bit of a dry subject. The audience appreciated this, as he gave hints, tips and suggestions on how to set up job alerts to receive the best results and how to make your application stand out.
The delegates certainly got to grips with the information and left the session enlightened, enthused and encouraged for their continuing future with the Civil Service.
It was good to be able to talk through some of the issues with people from other parts of the Civil Service.  Daniel New – HM Revenue and Customs
It was comforting to know that I'm far from being alone in struggling to highlight my abilities within 250-word competency categories.  Tiffany Ireland – Land Registry
A really insightful session. Gave good, no nonsense advice on how to apply for vacancies.  Thom Bolton – Department for Work and Pensions
I found the exercise on the competencies particularly beneficial. Great tips that I am going to share with my colleagues in our next team meeting.  Rajwant Hanspal – HM Passport Office
There are more sessions being held around the midlands region over the coming months. Please get in touch with Janice Smith to find out more.