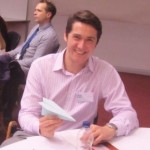 Having attended a few previous Civil Service events that didn't meet my needs, I also wasn't sure if this one would be worthwhile. I got a sense that the Academy - run by Civil Service Local North West - might be different when one of the project team, Glyn Ellis Hughes, appeared from nowhere and asked if he could take my picture as I arrived. Intriguing.
On meeting the people that I would be spending the next four days with, I found that they too were unsure what to expect, but there was no time to wonder as we were plunged into a series of tasks. It soon became apparent that everything that happened during the Academy had a purpose and clear message: leadership. Workshops on learning styles and personality types helped us to understand ourselves and our colleagues better.
A video gave a sobering insight into public perceptions of the Civil Service, and we were then addressed by Richard Heaton, Permanent Secretary for the Ministry of Justice, and Nick Ghiacy from the Cabinet Office. Both spoke passionately about the good work the Civil Service does and candidly about the blueprint for the future, which they see as digital and more efficient. It was refreshing to hear senior civil servants answer difficult, probing questions about data sharing, prison reform and collaboration. John Manzoni, the CEO of the Civil Service, shared his thoughts on Civil Service reform by video: collaboration, innovation and a focus on the services we provide to the public.
Following the theme, each group of delegates (or families, as they're called) discussed ideas for public sector reform, and despite my lack of public-speaking experience and a few nerves, I was persuaded to put forward my team's ideas about collaboration and data-sharing.
Then came the most significant part of the Academy, with each family having to create and deliver a presentation on Civil Service reform to a 'Dragons' Den'-style panel of senior civil servants and business leaders. I once again did some presenting for my family's pitch, having gained confidence from the previous task. The Dragons considered all the pitches and approved each one, providing feedback and offering to help. It was now up to the delegates to implement their projects over the coming 12 months.
A celebratory awards night rounded off our time at the Academy, with awards handed out to chosen delegates for positivity and personal development. The delegates felt energised about their participation and excited to be making a real difference to the Civil Service and the wider public sector.
Having been unsure of what to expect from the Academy, and whether it would be worthwhile, I can say I gained so much knowledge from my time there. It was refreshing to see the expertise and energy applied to ensure Civil Service reform is a success, and encouraging to know that the ideas of front-line staff are encouraged. The Academy is an incredibly worthwhile experience and one that I'm glad to have taken advantage of. It enables people to share their ideas and expertise, empowering them to help build better public services. It is testament to the hard work and dedication of all those involved that they create an event which, now in its fourth year, helps to craft capable, confident and engaged leaders.
We're all looking forward to the next 12 months and beyond.