Inspiring Young People is an innovative and fun programme that works with our local schools community to raise career aspiration, promote a positive view of the world of work and promote the Civil Service as an employer of choice.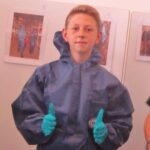 We're now looking for volunteers to work with school children in the Blackpool and Preston areas, with the next phases of the project beginning in the first week of January and the last week of February.
You'll benefit from working with colleagues from other government departments, while the students will learn from your experience and skills. The time commitment is around eight days over a six- to eight-week period, spending half a day a week with the students plus time for planning.
To apply, or to get further information, please contact Karen Poppleton or Donna Blyth