I recently hosted a Civil Service Local Discovery Event  delivered by our Attendance Management Group at Trinity Bridge House in Salford. This is the second Discovery Event to be hosted in our region this year. These day long learning events have evolved from the popular Discovery Sessions which offer bite-sized learning on various topics. This was a chance for us to focus on the subject of Attendance Management.
Our event was a truly collaborative effort, pooling together the expertise and knowledge from both our CS Local Attendance Management and Learning & Development groups. Our aim was to help first line managers by introducing some thoughts, techniques and tools which can help in dealing with the difficult subject of attendance management.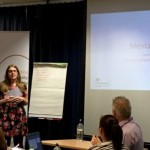 I am sure that like me, not many of the people who attended the session had ever expected that  a major part of their future career  would involve supporting their colleagues to attend work regularly, but I know from my own experiences that it's a difficult subject which appears full of potential pitfalls, seems very legal and complex, and I was not sure who could help me. The aim was to remove some of the myths and stories around the topic, help create the leadership link to attendance, to share tips and hints around difficult conversations and to provide a method of considering what can be difficult, challenging decisions. We also welcomed some expert speakers, some from inside the civil service, and some partner organisations. All of them spoke brilliantly about their expert areas, providing insight and ideas for future support. The feedback from attendees was very positive, scoring an overall average of over 5 out of 6.
We also asked the group to provide us with their thoughts on what could be improved, and received some useful tips which we will try to incorporate before running future events. We plan to hold events in Merseyside and Cumbria in the New Year so watch this pace for further details.
The feedback received most often was:
it was good to share experiences across the civil service
More than a quarter of the people who attended told us this.
One of their aims at the start of the day was to look for consistency, something which is difficult when no two cases are the same. The conversations enabled the delegates to gain some degree of understanding across the Civil Service, as six Departments were represented, and I think went some way to achieving this consistency.
What did I get from the day? A real sense of how a cross-government team can achieve, an understanding of how much hard work is involved for the presenters (some of whom don't do presenting as their day job) and a real pride in enabling the cross-government conversations to take place. I really enjoyed the buzz in the room and joining in some of the conversations.
A massive thank you to Julie Smith, Suzie Sargent, Becky Challinor, Jean Jones, Sarah Campbell, Trish Billington, Anna Kumik , Janet Moore and the ubiquitous Paul Voller for their professionalism, delivery and help on the day.
And one last thing I learned -turn up the heating next time!