Volunteers from the Civil Service went back to school earlier this month for a celebration assembly to recognise their efforts as part of a pilot Primary Reading Scheme. The scheme at Benton Park Primary School has enabled foundation stage learners (aged 4-6) to read aloud to Civil Service volunteers over weekly sessions and for Nursery stage learners(aged 3-4) to hear stories read to them.
When the Ouseburn Learning Trust made contact with us to look at the potential of developing a Volunteer Primary Reading Scheme in the Summer Term, we were absolutely delighted because this is exactly the kind of partnership we are looking to develop within the local community.  Our Civil Servants have thoroughly enjoyed mentoring pupils at Benton Park through the reading scheme.   Alice Witherow, Headteacher at Benton Park Primary, said,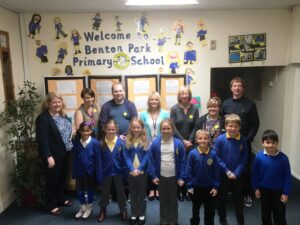 A love of books and reading is integral to school life here at Benton Park. To have volunteers from the Civil Service come into school to reinforce that message in our classrooms has been greatly appreciated by our pupils.  We are incredibly grateful to all the Civil Service volunteers who have taken time out from their work to listen to our children read.   It was a real pleasure for us as a school to welcome the volunteers back to school for a celebration assembly to not only recognise their efforts,  but also Mrs Pennington who has done such a marvellous job of co-ordinating the scheme here in School.
We hope to extend the partnership further with Ouseburn Learning Trust into the Autumn Term.  If you have already expressed interest in being part of this programme we will be in touch with you soon. If you would like to volunteer please email Anne Hunter.