The Inspiring Young People Further Education project is all about getting young people like us to think about our careers and to aim as high as we can. It's designed to help us see work as a positive thing by explaining why we should think about going to work for the Civil Service in the future. So, eight civil servants from lots of different departments came to our college to mentor us for seven weeks.
We didn't really know what it was all going to be about and this was the first time our college had got involved with the project. A lot of us agreed with Ryan when he said: "The first time I met the team I was nervous but also excited to try something new."
Robyn said that she felt slightly awkward at first working with these new people from civil service offices, but she soon got to be more relaxed about it as we got to know them better.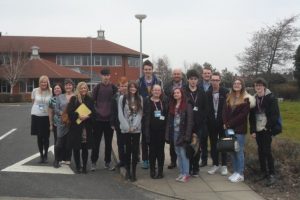 As part of the programme we went on tour to see different Civil Service offices, including a Probation Service office and the Department for Work and Pensions buildings at Peel Park and Warbreck House in Blackpool. It was good to go to these offices and learn about what the Civil Service is and what they actually do. There are so many different jobs. We had a look round the police station in Blackpool too which was good.
A big part of the project was making sure we could learn the skills we'll need to help us get jobs, like writing a CV and filling in job application forms. We did work on how to prepare for interviews as well. We even had mock interviews, which were a bit scary but really good!
What were the best bits of the course? For Brittany, it was visiting the police station, but Robyn said it was interesting to find out about all the different jobs in the Civil Service. I really liked visiting the different departments and having the chance to work with different people.
The project has helped us build our confidence and we know a lot more about the Civil Service now. Robyn said she has learned how to be ready for a job interview and calm her nerves before and during it. Ryan said it was exciting working with new people and learning what they do, as well as listening to their personal experiences, and he has learned to work better in a team as a result.
We would actually consider careers in the Civil Service now because there are so many different jobs to try, and we would all recommend this programme to other students because it helps you understand more about work and about the Civil Service and what they do. We all think it was well worth our time to be part of the project and we can't think of any ways it could have been better really. Like Ryan said, "I think it would be difficult to improve an already amazing experience!"