You will have seen from our last blog article that Civil Service Live was held in Cardiff this year. There were many stands at the event and for those of you that didn't get to attend Janet Hurley from Companies House, tells us more  about their coaching stand.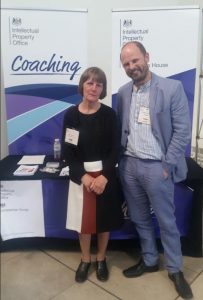 I recently took part in the CS Live event in Cardiff, with staff from Companies House and the Intellectual Property Office (IPO).  We ran a stand at the event to promote coaching and it was an excellent opportunity to showcase how both organisations are working together to highlight the benefits of coaching across departments.

There was a great deal of interest throughout the day which gave us the opportunity to discuss different approaches and to share experiences. The event has also given us the opportunity to start to build a coaching network, so we can share best practice, help others who are just starting a coaching network and importantly help and support each other as we develop.

We were pleased to receive a special visit to our stand from John Manzoni - Chief Executive of the Civil Service and Permanent Secretary (Cabinet Office). He was interested in the joint collaborative approach we have taken to share our experiences and recognises the true value of coaching across the Civil Service.

A lot of work was done behind the scenes to prepare for the day, so thanks go to Peter Evans (IPO) Alexandra Symonds (IPO) Louise O'Connell and Nicola Williams for their support.
If you are interested in coaching and would like to share ideas about coaching across government departments, please contact Jan, Mark, Nicola, Peter or James for more information.