My name is Ranu Hasnain I am currently employed at HMRC in Staines.
I have always been interested in education having been a PPA Teaching Assistant in my career. I am currently on the EMBRACE Management Programme and I have a mentor who asked if I would like to shadow and see what Civil Service Resourcing do. Whilst there CS Local asked for volunteers to attend a Career Fair to talk to students who might be interested in a career in the Civil Service.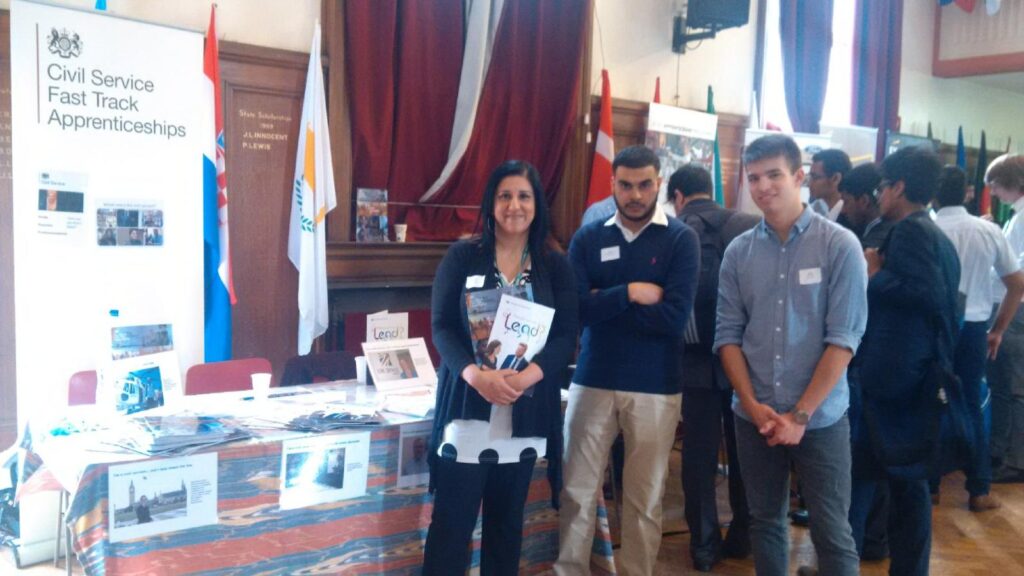 Straight away I said YES!
The career event was in Ilford County High School and open to all students in the borough of Redbridge Essex.
I arrived at the school bright and early. I must admit I was a bit nervous as I have never done anything like this before
There were a number of stalls being set up in the main hall ranging from doctors, to the police, the construction industry and even Google.
We set up our stall to promote the Civil Service as a career and had material about the fast track apprenticeships and the various career avenues and departments in the Civil Service. We had 3 apprentices on the stand who were able to give first-hand information about their journey so far in their departments which I and the students found very interesting.
Many were interested in the field of law or science and totally unaware that the Civil Service includes lawyers and scientists and it isn't just sitting at a desk pushing a pen all day! The students were very curious about the Civil Service and ambitious; one student asked how to 'become Attorney General'. When I said that the Civil Service had over 250 departments and employed over 300,000 civil servants many students were amazed.
It was nice to talk to students about the Fast Stream and Apprenticeships, as well as what I do in HMRC.
I found this event a big challenge for me, it built my confidence and brushed up my face to face communication skills and I would do it again if an opportunity arose. The Civil Service is a leading employer and it's great to be a part of it and to tell the next generation.