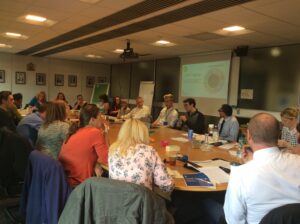 Every quarter representatives from across government departments in Yorkshire and the Humber meet with Continuous Improvement (CI) in mind. This was my first meeting having recently joined HM Courts and Tribunal  Service's Customer Directorate.
Having started my own CI journey 6 years ago within my department I was keen to see what this group could offer and what I could offer in return. The membership is varied and open, at this particular meeting there were lots of "new faces" which showed the success of the recent Civil Service Live stalls. The group has a warm welcoming feel with attendees taking the opportunity to make new connections. The agenda for the day took the form of a mixture of sharing current developments, best practice and future visions throughout the departments; with chance for questions.
This was followed by a workshop on how to shape future meetings to ensure everyone got the most value from their time there.  Pending review some strong themes for future meet ups emerged, a flavour of those being sharing best practice, coaching training in identified areas for group development and having support to take ideas back in to individuals own work areas. I am excited to see how the group take this forward along with the new opportunities it presents.
What struck me overall was how similar our departments are with the challenges we face over the coming years. This makes groups like this all the more needed.
I'd strongly recommend paying a visit, consider it a fresh pair of eyes and support. If you would like to find our more about this or any other CS Local network please contact Kelly Roush