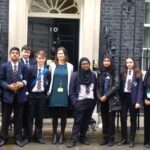 If you would like to know more about the benefits of volunteering - to yourself, your team and your business – then please join us for our upcoming Discovery Session in London on 15 December.
Sir Jeremy Heywood announced in 2015 that everyone in the Civil Service is guaranteed 3 days special leave each year for volunteering. Civil Service Local is keen to support you to achieve that target, and we will explain why undertaking volunteering can be so beneficial to not only your individual development but can reap longer–term benefits for the business too.
As well as covering why you should get involved, the session will also introduce some of the specific opportunities that Civil Service Local has helped to identify and develop, with a particular focus on disadvantaged and/or under-represented groups.
When: 15 December 2016
Where: G14, HM Treasury, 1 Horse Guards Road, London SW1A 2HQ
Time: 11:15 – 12:45
The session will be led by the Civil Service Local Co-ordinator Ian Barton, and co-presented by Adeel Riaz of HM Passport Office, who recently volunteered to lead his own schools project to help students to improve their own employability skills.
Our overall aim is to leave you feeling inspired and ready to take up the challenge of volunteering!
Places are limited so don't delay.