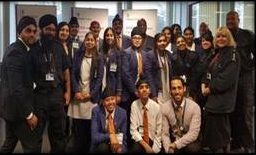 The Home Office Sikh Association (HO Sikh) in collaboration with Border Force Heathrow colleagues have, for the second year running, commenced a six week Civil Service Local Engaging our Schools (EOS) project with a group of Year 10 pupils from Guru Nanak Sikh Academy, a faith school in West London.
We all know there are many ways of learning and the project lead Mandeep Soin MBE and his colleagues have volunteered their time to help develop the aspirations of a group of students.
This EOS project launched at Custom House, Heathrow on Friday 17 March where students were given an insight into the work of Border Force, visiting stalls highlighting the work of the Passport Control, Detection Commands, the Convention on International Trade in Endangered Species, The Dog Unit and the Counterfeit Goods teams.
In the next few weeks, the project team will deliver sessions on 'applying for a Civil Service job', CV writing, interview skills and presentation skills.
Please let us know if you would like to volunteer for the EOS programme.