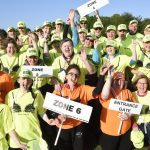 The MoonWalk London is an overnight power walking challenge that sees 15,000 women and men walking either a full or half marathon wearing fantastically decorated bras, raising money and awareness for breast cancer…quite a sight to behold!!
They are recruiting 2,000 dedicated, amazing volunteers to support the event on 12th and 13th May at Clapham Common – you simply need a positive and hard-working attitude for helping a great cause! In return you will meet some amazing people and have the most incredible time at one of London's most iconic events! It really is an opportunity to experience something truly unique, fun & challenging where you can donate your skills in a very practical way!
We guarantee there is something for everyone, no matter your experience or ability, and the night is split into three shifts:
Saturday Evening Crew: Join in the party atmosphere at MoonWalk City on Saturday 12th May where things are just getting started…a busy period when our walkers & volunteers arrive en masse!! Start times vary depending on your role, but no earlier than 5pm and finishing at midnight. Our 24 available roles include Baggage, Entrance Gate and Water Crew.
Saturday Overnight Crew: The crucial part of the event where our Walkers are out on the streets and volunteers are involved at the centre of an exciting night. Finish Line and Baggage roles start around 11pm on Saturday 12th May through to 6am. Route Marshals start between 7.30 - 11.30pm and finish within 8 hours or once the last walker has passed. Early finishes can be requested upon registration.
Sunday Morning Crew: Support our walkers towards the end of their journey... the most testing and inspirational part of their challenge! Starting at 6am on Sunday 13th May and finishing around 12pm, once the last walker crosses the Finish Line.
Not sure what you want to do? Let them know what your skills and experience are and they'll find the right role for you!
A volunteer information pack is sent to you before the event. A full briefing, uniform and light refreshments are provided on the night.
If you are interested sign up here. Please mention CS Local when you do.
Walk the Walk is the UK's largest grant-making breast cancer charity that has not only raised over £121 million pounds vital breast cancer causes, but also encourages women and men to become more aware of their own potential for fitness and wellbeing.