Titled 'A Brilliant Civil Service – in Action', the series of events is touring the country, bringing together colleagues from numerous departments and agencies to find practical ways to improve public services. The Liverpool event featured senior leaders and front-line staff sharing their experiences of transforming public services, and round-table discussions about common problems and potential solutions.
A film of colleagues from across government proudly speaking about their roles serving the public set the tone for the half-day event, before the first speaker, Zamila Bunglawala, spelled out what the roadshow would be about. Zamila, deputy director of strategy and insight in the Cabinet Office's Race Disparity Unit, said: "It's about you, it's about listening to you and the challenges you face."
Stressing that collaboration is at the heart of how we will turn the vision into reality, she added: "This is a journey – how we share it will benefit us all."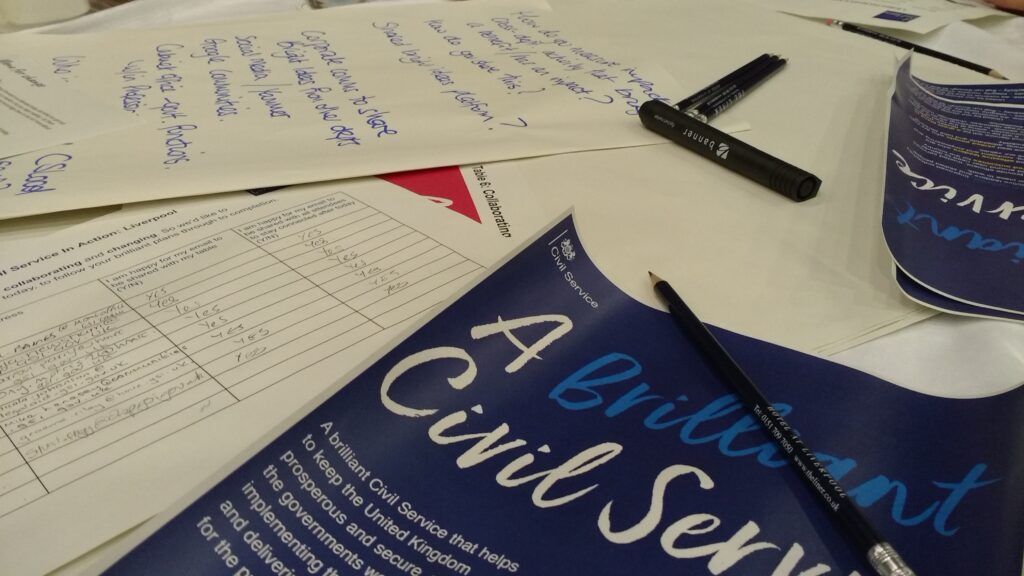 Alexandra Galloway is the deputy director, Head of Strategy in the Civil Service Group, and leads on the vision. She explained how it is founded on the four pillars of improved outcomes from skilled people and effective leaders in a great place to work. For transformation to be effective, she said, it has to happen "not just in Whitehall", but across the UK, in every department and agency. These events aim to bring together people who "are passionate about what they do."
Passion – and compassion – were evident in the speech given by Cathy Ingram, who works for HM Revenue and Customs in Liverpool. She recovers Tax Credits overpayments from vulnerable customers, and she spoke movingly of helping people who have suffered a recent bereavement or are seriously - and sometimes terminally - ill. Colleagues in the room were visibly moved by Cathy's words and her commitment to improving the services we provide to citizens.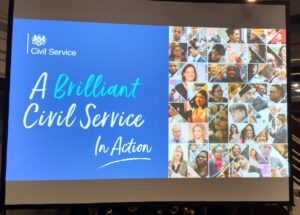 Gary Rolinson from the Department for Work and Pensions in Blackpool gave a presentation that was light-hearted but had a serious focus. He explained how collaboration with colleagues across his department improved the appeals process for citizens applying for Personal Independence Payments, which are paid to help with some of the extra costs caused by long term ill-health or disability. He asked the audience to embrace change, and "to grasp opportunities to be brilliant."
The table discussions were just that opportunity, and the room was abuzz with the sound of colleagues sharing common problems and coming up with creative ideas to solve them.
Each table had a topic that attendees had said was most important to them when they registered for the event. In one group, discussing the merits of collaboration across boundaries and the obstacles to doing it effectively, there were common themes. They included a lack of consistency in being able to share data securely between departments, and a feeling that collaboration is sometimes seen as an add-on to someone's job role, instead of an integral part of it. Everyone around the table gave an example of how processes had been streamlined and services improved by innovative staff ideas, as well as by co-operating with colleagues in other work areas and departments. Some of the groups will present their solutions for improvement at Civil Service Live events this summer.
Jonathan Slater, the Permanent Secretary at the Department for Education (DfE), highlighted collaboration as a key driver in transforming public services. He cited the example of how a school for children affected by the Grenfell Tower fire was built in just nine weeks, thanks to the close working between DfE and the Ministry of Defence, which gave up land for the school to be built.
He said that, for the vision to be achieved, civil servants should question assumptions and dare to do things differently. "How can we be courageous?" he asked. "Why do we do it that way? Can we do it better?"
Nikki Newsham thought the roadshow was "inspirational" and built on the work already being done to make the vision a reality. Nikki, who works for DWP in Blackpool, said: "I personally am really proud to say I am a civil servant."
HMRC's Graeme Riley was keen to see the "practical application" of the event, and he wasn't disappointed – he introduced a colleague he met there to a senior leader in HMRC working in a similar field. He also took away staff engagement ideas to help him with a project he is working on.
The event clearly demonstrated that connecting civil servants, and harnessing their positivity and enthusiasm for collaboration, is the formula for turning the Civil Service Vision into action.