Every once in a while it is good to get out of the office environment and do something a bit different.
Volunteering is a great way to do this. Helping to make a more inclusive society and completing a task that benefits others can give you a real sense of accomplishment and enhance your physical and mental wellbeing.
Volunteering with your team can also help you get to know each other a bit better, help you understand each other's strengths, weaknesses and interests.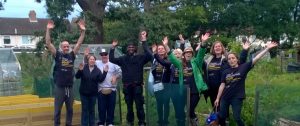 If you have lots of enthusiasm, energy and a willingness to get stuck in, want  to meet new people and do something different to your normal routine then we have the following volunteering opportunities over the coming year.
You can apply as an individual or as a team.
Brandon Trust social enterprise allotment.
The Brandon Trust support adults with learning disabilities and autism. They run an allotment providing a safe space for the people they support to experience nature, get some fresh air and exercise and take time out to relax. They are developing the allotment into a social enterprise to sell produce to raise money to support the Trust.
When: 12 April, 10 May, 7 June, 5 July, 2 August, 30 August, 27 September, 25 October, 22 November. Up to 20 volunteers for each day.
Time: 10:00 am – 3:00 pm
Location: Brandon Trust allotment project, Chesham Allotments, (entrance between 68-70 Chesham Road) Anerley, South East London, SE20 7RP.
Further details:
There are many tasks including planting, digging, some repairs - something for everyone!
You will be volunteering alongside Brandon Trust staff, volunteers and people they support.
No experience in gardening or supporting people with a learning disability necessary.
Brandon Trust staff will provide full instruction and supervision.
All tools, gloves etc. will be provided by Brandon Trust.
You should wear strong covered shoes/ boots and clothes you don't mind getting dirty.
Minimum age 18
The Community Kitchen Garden at Morden Hall Park.
The vision for the Kitchen Garden at Morden Hall Park came from a local person who suffers from anxiety and has experienced first-hand the benefits of getting outdoors and meeting new people and the project was started in 2017
The kitchen garden provides a safe space that the community has ownership of; where they can learn new skills, meet like-minded people, and build confidence. The main aims of the programme are to improve the physical and mental health of local people by getting them outdoors and active in the garden and by removing barriers that have prevented them from getting involved in the past
When: 27 March, 29t May, 31 July, 25 September, 27 November. Up to 10 volunteers for each day.
Time: 10:00am to 3:00pm, Shorter times can be arranged.
Location: Morden Hall Road, Morden, London, SM4 5JD (Morden - northern line).
Further details:
Tasks include general garden maintenance such as planting, watering, weeding, potting on. There are also some larger tasks to continually improve the space and make it accessible to more people. At the moment the ground is uneven and all the planting is done at ground level so they need to dig out level p
aths and build planting tables accessible to wheelchair users.
You will need to dress ready for outdoor work, wearing sturdy shoes and ready for whatever the British weather brings. They do have some boots and wellies you can borrow if you let them know sizes in advance.
They will provide tools and any protective clothing or equipment required.
You may be volunteering alongside some of the local volunteers so you get to meet the people you are benefiting.
Contact us stating date and location to express an interest or for further details.