Civil Service Live is the biggest cross-departmental learning event of the year, attracting thousands of civil servants to regional events to learn, network and share best practice, with the goal of providing better public services. Blackpool's Winter Gardens hosts this year's North West event on June 27th. Applications to run stalls have now closed but you'll see that whether you are there as an attendee or an exhibitor that there's opportunities to network and learn whatever capacity you attend in.
Brian first attended Civil Service Live as a delegate in 2016. Inspired and enthused by his experience, he returned last year and helped to run a stand with colleagues from the Disclosure and Barring Service (DBS), raising awareness of the organisation and increasing understanding of its role.
He said: "At the Civil Service Live event, we were able to promote and answer queries from other government departments about DBS's Basic Certificate Service, which went live in September 2017. Following the event, my Operational Customer Services team received over 100 enquiries related to all DBS services; this gave us an opportunity to promote the important safeguarding aspect to our work."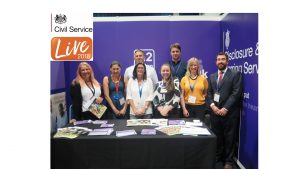 As well as raising the profile of the organisation, having a presence at CS Live enabled the DBS team to learn from colleagues across government – one of the key aims of the event.
Brian explained that his organisation "have been busy developing an Assisted Digital Service (AD) for DBS applicants who have difficulty accessing our digital services.
"Civil Service Live allowed DBS staff the opportunity to gather essential knowledge at the event from diversity colleagues and other government departments, which has been instrumental – and extremely cost effective – in helping to build this service at DBS."
And it wasn't just his organisation that benefitted from being at Civil Service Live – Brian's development also received a boost. He said: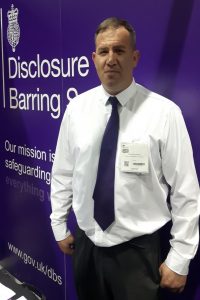 "For me, being part of the event brought an invaluable opportunity to network with other government department leaders and to learn about additional Civil Service Local initiatives. One of these was the Business Buddy scheme, which involves individual leaders from across government meeting regularly to share knowledge, ideas and suggestions. Since late 2017, my buddy Lynn Fell (from the Department for Work and Pensions) and I have learned much about our respective departments' work, and have, to date, shared a DBS written correspondence course and are currently exploring a way of supporting AD."
So why don't you do what Brian did, and liaise with colleagues from across government to develop yourself and improve the services we deliver to citizens?
When registration opens on 25th April, you can browse the list of talks and seminars on offer and book the sessions you want to attend. There will also be plenty of stands highlighting how departments are transforming themselves to realise the vision of a Brilliant Civil Service. Sign up to learn about the departments and go and maybe you might get to speak to Brian and benefit from all the learning and networking opportunities on offer.
Tickets for sessions get snapped up quickly, so put the date in your calendar now and don't miss out. Not only might you learn something, but you might be able to shape other departments thinking like people helped Brian and his colleagues last year.